iMovie is an easy-to-understand video editing application developed by Apple, people who own iOS devices and Macs love to use it to edit and create video clips in their daily life. However, when users want to use some Apple Music songs from their music library as BGM in the iMovie projects, they always failed to do so. More and more users have reported that a wrong message will pop-up when users try to import Apple Music songs from music library to iMovie. If you are one of these confused users or you are going to create or edit your own movies and videos with iMovie, you will need to read this article to learn the best way to add Apple Music songs to iMovie projects as background music successfully.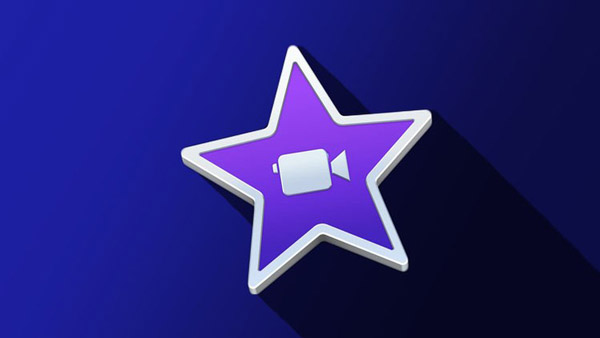 Why Do Users Fail to Add Apple Music Songs in iMovie Projects as Background Music?
Those who are interested in video editing must know about iMovie. As a novice-friendly video editing application developed by Apple, iMovie is always being popular around the public since it was launched. The main reason why iMovie is popular is its simple and convenient interface and operation. As we mentioned above, iMovie is novice-friendly and easy-to-understand, which means that whether you are a professional video maker, have used other video editing software, know about iMovie before using it or not, you can easily create your own personalized, exciting movies and trailers with iMovie.
Another advantage of iMovie is that it is a product of Apple. So, when people want to add background music to a video clip, it's natural to think of Apple Music, which is also Apple's product. People would love to add Apple Music songs to their videos since Apple Music has a huge music library with over 50 million songs and music library is integrated into iMovie so that users can simply drag songs from music library to iMovie. However, most Apple Music songs that we used to stream and download are in protected M4P format, this raises the question that the protected songs are not allowed to be added to iMovie, and that's the reason why users will see a notice with "files are protected and unavailable" when they want to add music from music library to their iMovie projects.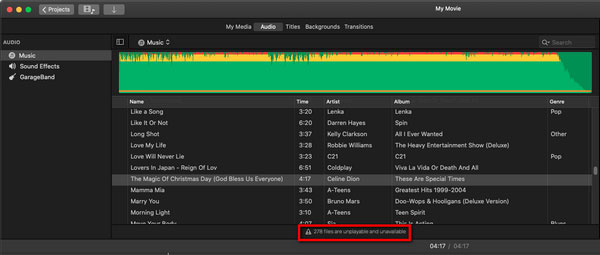 As people use iMovie more and more frequently, the need to solve this problem has become more and more urgent. Finally, the ultimate solution has come out. This solution does not require you to purchase songs from iTunes Store, all you need is a program that can convert your Apple Music songs from M4P to MP3, AAC or AIFF, which can be added to iMovie. Therefore, a professional converter called TuneKeep Audio Converter is exactly the one you will need.
Ultimate Solution to Help Users Add Apple Music Songs in iMovie
TuneKeep Audio Converter can be the best partner when you want to add Apple Music songs to iMovie. The operations of TuneKeep Audio Converter are as simple as iMovie and its interface is similar to iTunes, you can learn how to use it proficiently in a very short time, with the help of it, you can easily add Apple Music songs to your iMovie project and complete your video editing successfully. Let's check the advantages of TuneKeep Audio Converter and see how can it help us.
Features & Advantages of TuneKeep Audio Converter
Convert Apple Music song from encrypted M4P format to MP3, AAC and AIFF for iMovie
All the ID3 tags of each song can be kept in the output files for users
100% lossless audio quality with the same bitrate/sample rate as the original files will be retained
Convert any Apple Music song with up to 16X faster conversion speed
Rename and sort output files by ID3 tags and special characters (hyphen, slash and space)
You don't need to download any Apple Music songs before converting them
Fully supports the latest version of macOS (from macOS 10.9.5-10.15)
Explicit Guide of TuneKeep Audio Converter
Step 1:

Launch TuneKeep Audio Converter

You can launch TuneKeep Audio Converter from Launchpad or Taskbar after installation. Please note that iTunes (Apple Music application on macOS 10.15) will also be launched with the converter. And then iTunes will stay in the background and the converter will load your media contents in your music library, just make sure not to exit iTunes until the conversion is completely done.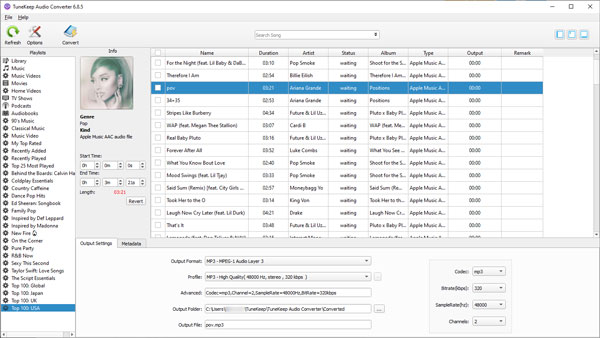 Step 2:

Choose Apple Music Song as You Want

You will see all the contents are listed as playlists in the left panel, to choose any song of them, please click on the playlists. You can select the ones you want to convert and add to iMovie by ticking the checkbox of it. If all the songs in the playlist are the ones you want to convert, please check the top checkbox to select all.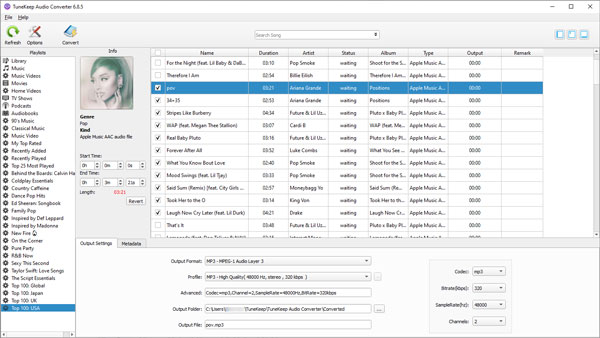 Step 3:

Settings and Options

In the bottom panel, you can choose the format for output files, since iMovie supports MP3, AAC and AIFF files, please set output format as MP3, AAC or AIFF to be compatible with iMovie. You can also rename songs and set metadata in the bottom panel. Click on the "Options" button and you can open the Options window to adjust volume, select the way to sort output files, etc., which can be set up in a few clicks.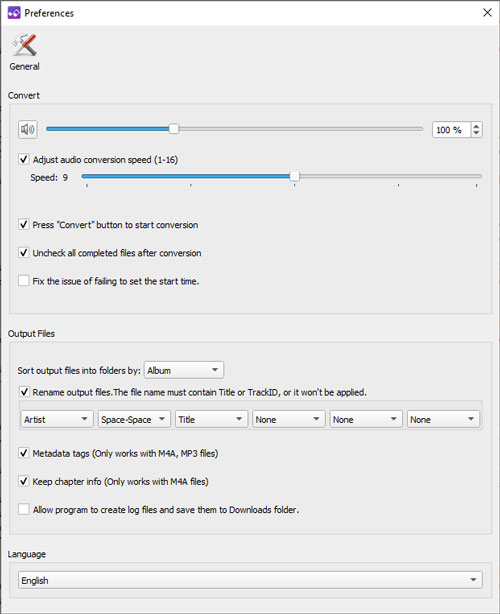 Step 4:

Start the Conversion

Now you can simply press the "Convert" button and start the conversion. All you need to do is to wait for it to be done, it won't take you long since TunKeep Audio Converter provide a high conversion efficiency. After conversion, you can locate the output files by clicking the "Explore Output Files" button.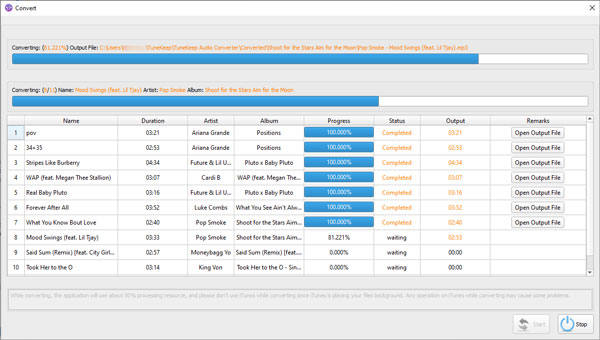 Step 5:

Add Converted Apple Music Songs in iMovie

Since the converted songs contain the full ID3 tags, so they might look like the same as the original files, we suggest you delete the original files first and then you can add the converted songs to your music library. After that, you can add the converted songs to your iMovie projects as background music by dragging them to the track.
Conclusion
It is interesting and meaningful to add background music when editing videos, don't give up this skill that will make your video more wonderful because of Apple Music's encryption technology. With the help of TuneKeep Audio Converter, all the songs in the music library of Apple Music are yours to be added. We all know that Apple Music and iMovie keep providing wonderful services for users, but this time, only TuneKeep Audio Converter can help you convert Apple Music songs and then add to iMovie projects successfully. Now please wait no more and hesitate no more, come and download this amazing program to make video editing an easy thing.