Although it's been a long time since the first release of iPod, even Apple has decided not to manufacture iPod Nano/Shuffle anymore, iPod still plays a very important role in music entertainment. However, Spotify didn't release any app version that is compatible with iPod as yet, and it is foreseeable that Spotify will not develop such an App in the future.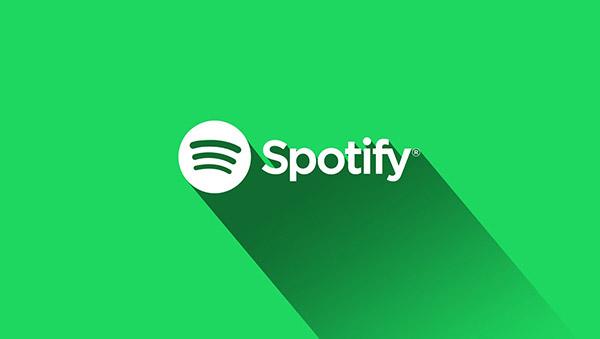 Nowadays, because of iPod's outstanding performance, perfect music playback ability, and of course, its popular look, there are more than 400 million people using iPod on this planet. It can be said that iPod is almost the most famous offline music player.
When Spotify turned out, online music streaming services became popular, but users' enthusiasm for the iPod did not decrease. Instead, more and more people wanted to play Spotify music on the iPod. This idea was once realized, but it didn't last long, this useful feature was finally terminated.
Can People Enjoy Spotify Music on Their iPod?
For whatever reason, Spotify didn't connect this popular music streaming service with this famous music player, which made people who like iPod or Spotify feel disappointed. Not only that, because the downloaded Spotify music file is encrypted OGG Vorbis files, you are not allowed to move Spotify music songs to iPod Nano/Shuffle for listening even if you are using Spotify premium.
For iPod touch, you need a 6th or 7th generation iPod touch with iOS 10 or higher running so that you can play Spotify music on it, and this is not common among iPod users, not so many people own a 6th generation iPod Touch with iOS 10 running or a 7th iPod Touch. Besides, it is nearly impossible to play Spotify Music on iPod Touch 4th, 5th though you are the Premium.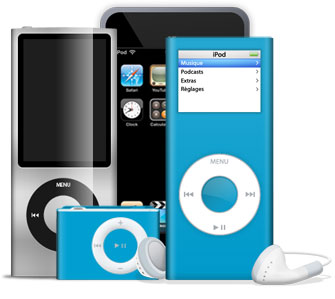 Well, as we mentioned above, you can actually sync music with your own iPod including iPod Nano, Shuffle and even Classic by the Spotify desktop app via USB cable in the early days. But dramatically, Spotify has removed this feature for some reasons. And now, people who love both Spotify and iPod, just like you and me or anybody who is reading this article, need to find other ways to play our Spotify music on iPod.
Convert Spotify Music to MP3/M4A for iPod with Spotify Music Converter
What's good with TuneKeep Spotify Music Converter
Convert Spotify music from protected OGG to plain MP3, M4A, WAV or FLAC
Retained lossless original audio quality in output Spotify songs
Help you enjoy Spotify songs on multiple devices with free or premium account
Rename output files in bulk by album, artist, track number, hyphen, space, etc.
Click only a few times to sort output files by "artist, album" & "artist/album"
ID3 tags like song title, artist, album, artwork, track number, genre, etc. will be completely preserved in output files
Simple Guides to Learn How to Convert Spotify Music to MP3/M4A
Step 1:

Launch TuneKeep Spotify Music Converter

When you launch TuneKeep Spotify Music Converter, don't be surprised, Spotify will be automatically launched. Please make sure Spotify is running and do not exit it when downloading and converting.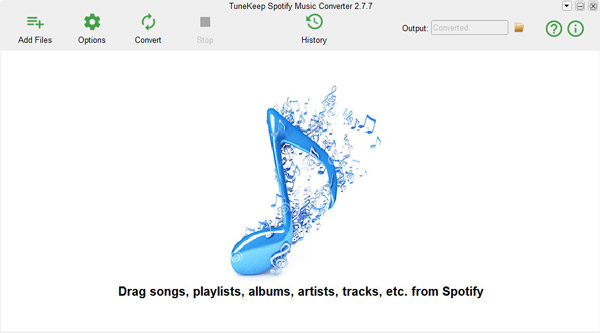 Step 2:

Add Spotify songs, albums or playlists

You can easily drag and drop Spotify music to converter, make sure you have displayed both these two programs in a screen and just drag those songs, albums or playlist you like from Spotify and drop them to the converter.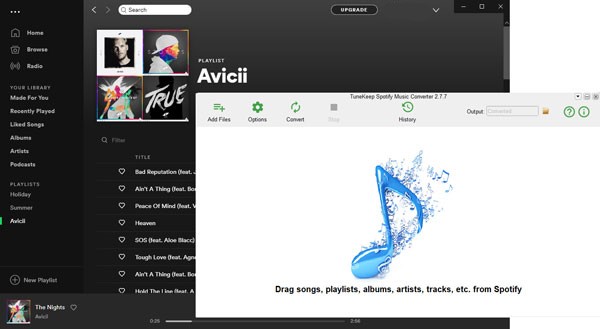 TuneKeep Spotify Music Converter has an advantage, that is users have two ways to add their favorite songs, albums or playlist. If you don't want to do the drag and drop operation to add music to converter, you can choose to copy links of songs, albums or playlist and then simply paste them in the link bar of the converter. Both these two ways are convenient and simple.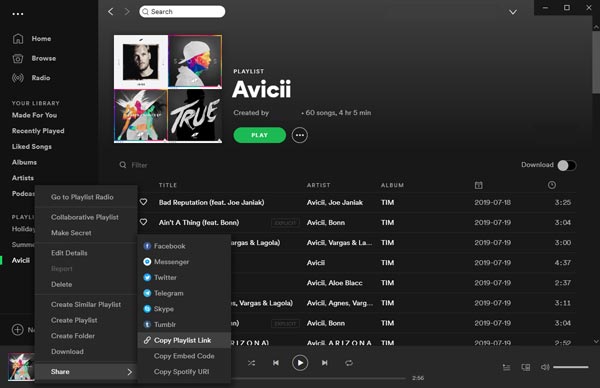 After adding music, Spotify Music Converter will pop up a dialog for choosing the songs that you want to download and convert. Generally speaking, all the songs will be checked and for those songs you don't want to convert, just simply uncheck them.
Step 3:

Select output Format for iPod

Spotify Music Converter provides MP3, M4A, WAV or FLAC as output format, you can choose one format that is playable for iPod, here we use iPod Nano as an example, so we can choose MP3, M4A or WAV as output format. The program will use 320kbps and 44100hz MP3 as output format by default, if necessary, it is available to change output format in Advanced tab by clicking the Options button.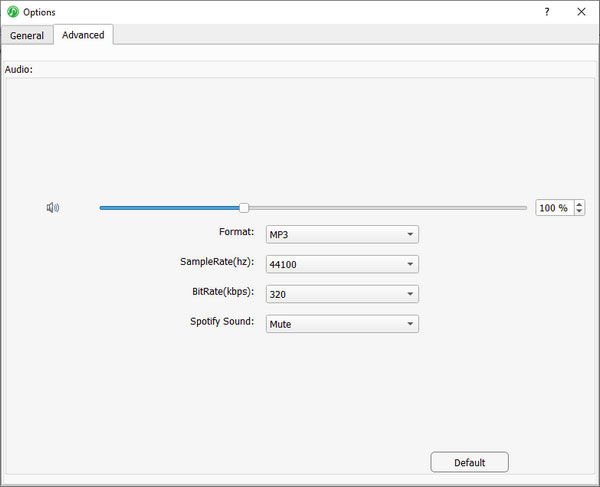 Step 4:

Start downloading and converting Spotify music

Now you only need to click the Start button and the conversion will start. With TuneKeep Spotify Music Converter's outstanding conversion speed, the conversion will be done in a very short time.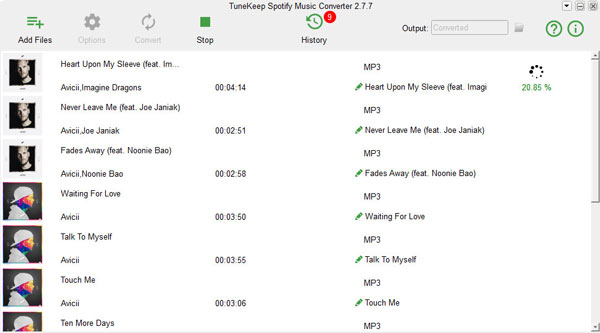 After conversion, you can check and locate the output songs by clicking the "History" button.
Step 5:

Transfer converted Spotify music

For now, you have totally broken the limitations of the encrypted OGG files. Spotify songs are ready to be transferred from your PC or Mac to your iPod, here we use iPod Nano as an example.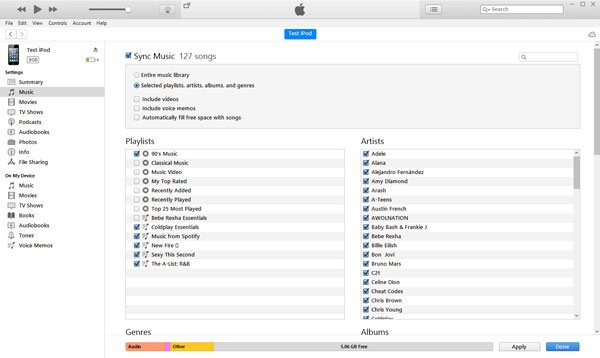 Launch iTunes and add the converted Spotify tracks to iTunes library, after that, you can create a playlist and add those converted songs to it, then sync to iPod Nano via iTunes.
Conclusion
With the help of TuneKeep Spotify Music Converter, all the Spotify subscribers can now convert and enjoy their favorite Spotify Music on iPod Nano/Shuffle/Classic. After reading this article, I think maybe it is time to have a try of this amazing converter. You can now download the free trial version of Spotify Music Converter to convert 3 minutes of each song.