Sony has released many generations and series of Sony Walkman, and it is still one of the most popular music players in the world. From teenagers to middle-aged people, music lovers of all ages must have or hear of Sony Walkman. Just like Sony Walkman, Spotify is now one of the most popular music streaming services worldwide, guess there is no such a music enthusiast who has never heard or used Spotify. What would happen when we put Sony Walkman and Spotify together directly? Nothing, we are afraid. Since Spotify downloaded tracks are in encrypted OGG format, subscribers are impossible to enjoy Spotify music on other devices, including classic Sony Walkman.

Today in this article, we will show you how TuneKeep Spotify Music Converter builds a bridge between Sony Walkman and Spotify by converting encrypted OGG files to plain MP3 and make it possible and easy to play Spotify music on all generations of Sony Walkman.
Something you should know about Sony Walkman and Spotify
First released in 1979, the Sony TPS-L2 Walkman was the first truly portable personal cassette player and changed the way we listen to music. And yet, many music enthusiasts are keen on listening to music on new generations Sony Walkman like NW-A105, especially this year, 2019, the 40th anniversary of Sony Walkman. Whether it's a nostalgic idea or consistent use, an undeniable fact is the number of people who use Sony Walkman to listen to music in 2019 will be indeed a huge number. New versions of Sony Walkman also support playback of audio files in different formats, but this very format we are going to talk about is an exception.

Spotify Premium subscribers will find that when they download Spotify songs, they are actually downloading *.OGG files. The OGG format is a container used for storing audio data. The term "Vorbis" refers to a specific encoding scheme provided by Xiph.Org, the developers of OGG. OGG files may also include other types of audio compression, including FLAC and Speex. On this basis, Spotify uses encryption technology to encrypt the downloaded OGG files, so the subscribers are limited to transfer Spotify songs or make any uses except for listening.
Now we guess you have already found out the problem, there is no way to play our Spotify music on Sony Walkman directly. However, TuneKeep Spotify Music Converter is designed to solve this problem, not just "solve", it can solve the problem easily and perfectly.
Why would users need TuneKeep Spotify Music Converter?
TuneKeep Spotify Music Converter is a professional and powerful Spotify music downloader and converter, which can help users download and convert encrypted Spotify music to plain audio format like MP3. Both Spotify free and premium subscribers will need this converter if they want to listen to Spotify music on Sony Walkman. Not only for this purpose, if you want to transfer Spotify songs to other devices or burn them to CDs or any other purpose, TuneKeep Spotify Music Converter can also help you with it. Let's see what advantages this converter has.
What's good with TuneKeep Spotify Music Converter
Convert encrypted OGG files to all-purpose MP3, FLAC, WAV, M4A files
Reserve original ID3 tags like title, album name, artist, genre, artwork, etc. in every song
Keep 100% original audio quality in output tracks after conversion
Rename output files in bulk by album, artist, track number, hyphen, space, etc.
Sort output files by "artist", "album" or "artist/album" in only one or two clicks
Both free and premium accounts of Spotify are fully supported
How to use TuneKeep Spotify Music Converter to enjoy Spotify on Sony Walkman
Step 1:

Launch TuneKeep Spotify Music Converter

When you launch TuneKeep Spotify Music Converter, the program will automatically launch both the converter and Spotify. Remember do not turn off Spotify when the conversion is still in process.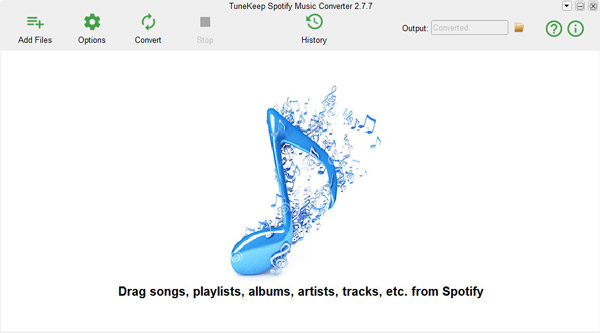 Step 2:

Add your favorite Spotify music

This smart converter prepared two kinds of adding methods for users. One is drag & drop, display both Spotify and TuneKeep Spotify Music Converter in the same screen, find your favorite Spotify music and simply drag them from Spotify, and then drop them into the converter.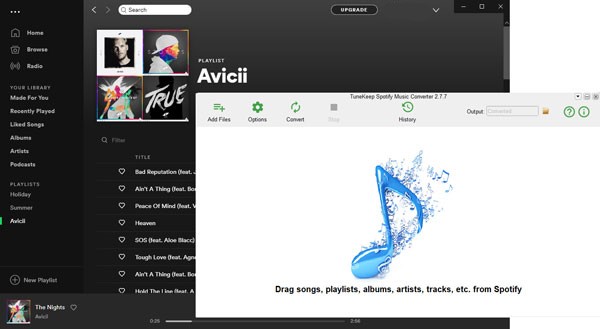 The other method needs you to copy the link of your favorite Spotify songs, albums or playlist. Click "Add Files" button at the top left corner of the converter and you will see a link bar. Paste the link you just copied from Spotify in the bar and then press the "+" button to add them.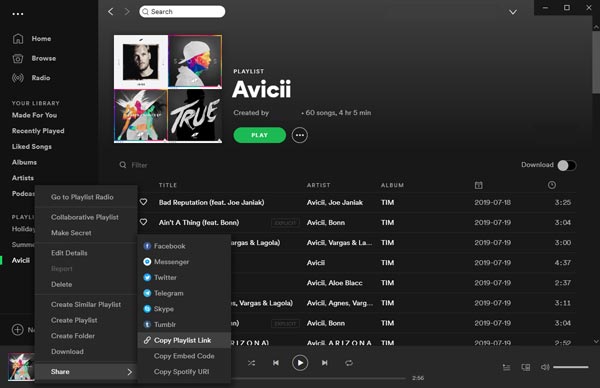 Now you have finished adding Spotify music, you will need to make decisions about which songs are going to be converted and which are not. Just simply uncheck those songs you don't want to convert in the conversion list.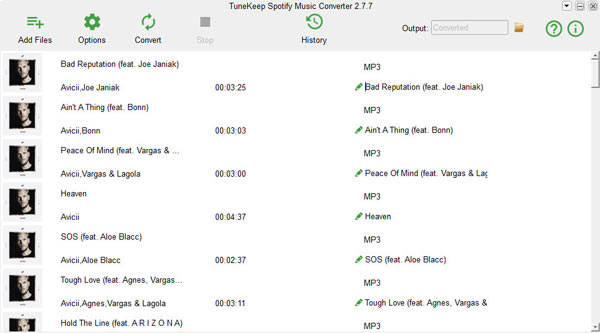 Step 3:

Select output folder and output format

TuneKeep Spotify Music Converter provides a high selectivity. You can select a specific output folder to save output songs instead of saving them in the default output folder. Also, you are available to select the output format, sample rate and bit rate of the output files. You can change and select all these settings in the Options panel by clicking the "Options" button.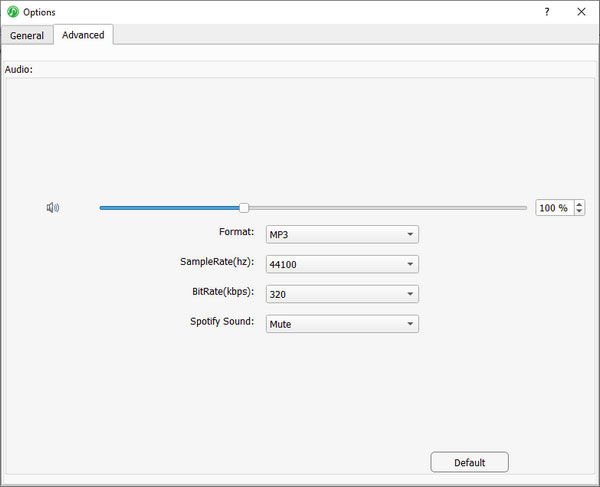 Step 4:

Start the conversion for a better music enjoyment

After all the preparations, you have achieved the last step. Click "Convert" to start the conversion that you've been looking for. Soon you will get output files you want with the help of TuneKeep Spotify Music Converter.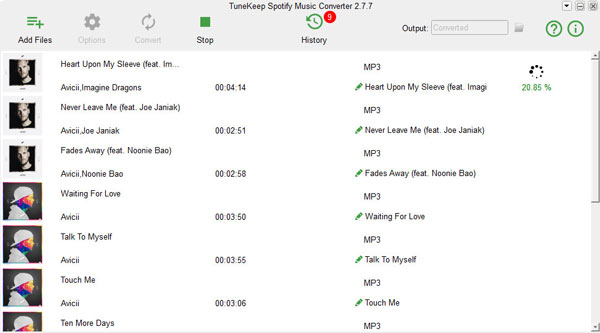 When the conversion is done, you can check conversion history and remove them or the output files in the History panel, click on the "History" button and you will see. For now, you can transfer your Spotify music to your own Sony Walkman. How wonderful it will be to listen to your most-loved Spotify music on a Sony Walkman in this special year - the 40th anniversary of Sony Walkman.
Conclusion
You won't be disappointed when using TuneKeep Spotify Music Converter to download and convert Spotify music for the best musical enjoyment on Sony Walkman. With its profession and great features, TuneKeep Spotify Music Converter would be the perfect and best helper of your music experiences. If you hope to enjoy Spotify music on different devices like iPod, iPad, PSP, Kindle Fire, etc., TuneKeep Spotify Music Converter can also help to solve decryption and conversion problems successfully. As Spotify music lovers just like you, we highly recommend you to download and try this amazing program right now.