There are two subscriptions about the music services of Apple, they are Apple Music and iTunes Match. Both Apple Music and iTunes Match can upload your music contents in the cloud and make them available on different devices. They are so similar that many users are confused when distinguishing them. Which one is the best music service of Apple? And what should we pay attention to when choosing to subscribe to them? In this article, we mainly talk about the differencews between Apple Music and iTunes Match, we will keep this article simple and easy to understand so you can easily make the best choice.

Comparison of Apple Music and iTunes Match
We will compare Apple Music and iTunes Match in different aspects, you can clearly know their latest information and the difference between them. Both Apple Music and iTunes Match have the ability to put your iTunes library in the cloud, and make use of iCloud Music Library. They have different methods to help you to listen to your iTunes music collections on multiple devices, after the comparison, you can make your choice easily.
Price
As consumers, the price of the services has a big impact on our choices. Apple Music costs $9.99/month for one single user, $14.99/month for family users (up to six users, Android users can be included), or $99/year for one single user, if you are a new subscriber of Apple Music, you can enjoy a three-month free trial. The subscription to Apple Music will be automatically renewed every month or every year.
As to iTunes Match, it is a yearly service. Users can only subscribe to the 1-year plan of iTunes Match at the price of $24.99. Just like the Apple Music subscription, iTunes Match subscription will also be renewed at the end of your one-year subscription. There's no free trial for iTunes Match and the Apple Music tracks can be streamed or downloaded to up to 10 of your other devices.
| | | |
| --- | --- | --- |
| Price | Apple Music | iTunes Match |
| 1-Month | $9.99 for 1 User or $14.99 for 6 Users | / |
| 1-Year | $99 for 1 User | $24.99 for 10 Devices |
Usage
Essentially speaking, Apple Music is a music streaming service that allows subscribers to stream and download Apple Music tracks. Apple Music allows up to 6 devices with the same Apple ID to be signed into a single user Apple Music account. However, you cannot stream music to more than one device at a time. If you wish to stream music at the same time, you must first set up one of you with a separate Apple ID, then set up Family Share and then sign up for the Family version of Apple Music. In additional, the downloaded Apple Music tracks can only be used for offline listening. Besides, you can also access to the Beats 1 radio station and some TV and Films that are basically music-related videos. Your downloaded tracks will be unavailable once you've cancelled the subscription to Apple Music.
iTunes Match is a service where music fans are able to upload their entire music collection to the Apple cloud and stream it from Apple's cloud to any device. Music fans can even upload & stream music that they have imported from CDs and the music they didn't purchased from iTunes on Mac or PC running iTunes. In fact, iTunes Match is solely for activating and maintaining your iCloud Music Library. iTunes Match lets its users match up to 100,000 tracks from their iTunes library (or libraries) to the iTunes Store catalog; these tracks can then be streamed or downloaded to up to 10 of other devices. Users can stream or download these tracks from iCloud Music Library to any of their 10 devices as long as their iTunes Match subscription is not expired. The downloaded tracks will show up as a 256kbps matched plain AAC file.
Limitations
The biggest difference between Apple Music and iTunes Match is the limitations about the downloaded tracks. When you download tracks from Apple Music, you can only listen to them offline on up to 6 "authorized" devices because the downloaded tracks are in encrypted M4P format. Once your subscription is expired, the downloaded track will be gone away.
In contrast, music downloaded by iTunes Match are in plain AAC format. If the music you uploaded are in WAV, ALAC, or AIFF formats, then they will remain in those formats from which they were uploaded. You can keep accessing the downloaded tracks after losing the subscription to iTunes Match.
| | | |
| --- | --- | --- |
| Limitations | Apple Music | iTunes Match |
| Subscription Expires | Downloaded tracks cannot be accessed | Downlaoded tracks can be accessed |
| Download Format | Encrypted M4P | AAC or Original upload formats |
| Usage of Tracks | Offline listening only | Multiple purposes |
Extra Tips: Convert Apple Music Tracks for Offline Listening?
TuneKeep Audio Converter is a specially designed converter that can convert Apple Music tracks from M4P to plain files. Users can do a lot of things with the converted Apple Music tracks like burning them to CDs, copying to USB disks, adding to video or audio editors for re-creating and other purposes. TuneKeep Audio Converter is professional, efficient and liked by 100,000+ users.
Let's take a look at the benefits of TuneKeep Audio Converter, which will give us a comprehensive understanding of it.
Features & Advantages of TuneKeep Audio Converter
Convert any Apple Music tracks from encrypted M4P to plain MP3, M4A, AC3, AU, AIFF, etc. for different usages
Keep the original audio quality in every converted Apple Music tracks
Every ID3 tag including title, album, artist, genre, artwork, etc. will be automatically retianed after conversion
Fully compatible with the latset Windows OS and macOS, the latest version of iTunes (Music app) is supported
16X faster conversion speed is provided to save your precious time
How to Use TuneKeep Audio Converter
Step 1:

Launch TuneKeep Audio Converter

Launch TuneKeep Audio Converter on your computer and iTunes (Music app on Catalina) will also get launched automatically. During the conversion, please do not close iTunes (Music app).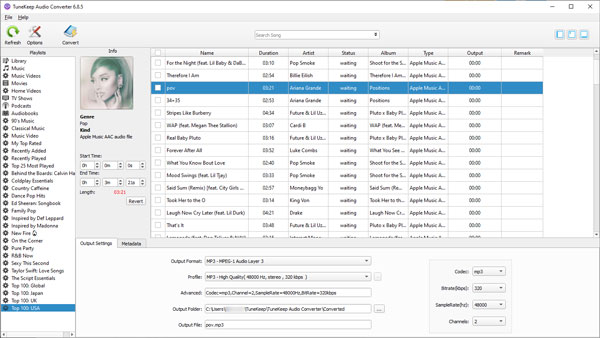 Note: Please do not download and stream songs on iTunes or other music streaming services.
Step 2:

Choose Apple Music Tracks

You will see all the media files are placed in the left panel of TuneKeep Audio Converter. You can click one of them to show the tracks in it, you can find the tracks in the main panel. There is a check box of each Apple Music track, you can tick the checkbox to check them if you want to convert them.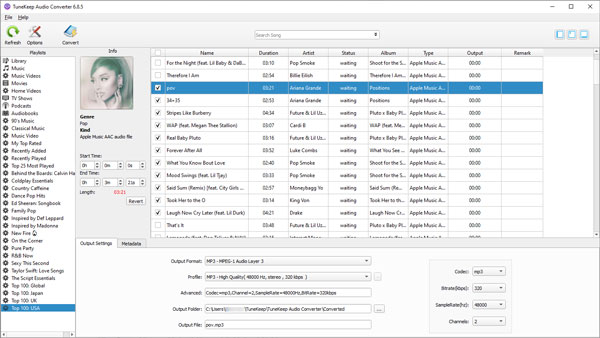 Step 3:

Settings & Options

The bottom panel is where you can set output format and metadata. You can select the output format and output folder for the tracks, bit rate and samplerate can be changed, either.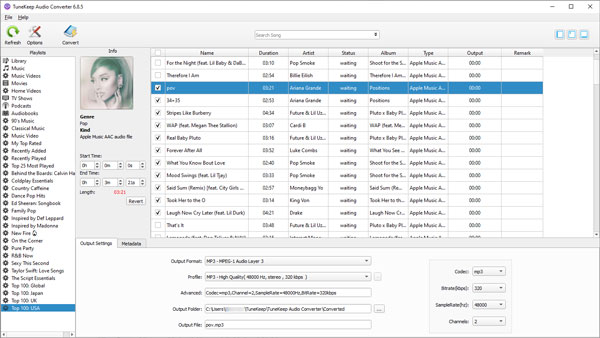 There is an "Options" button at the top left corner, you can click it to make changes on the conversion like setting conversion speed, adjusting volume, etc.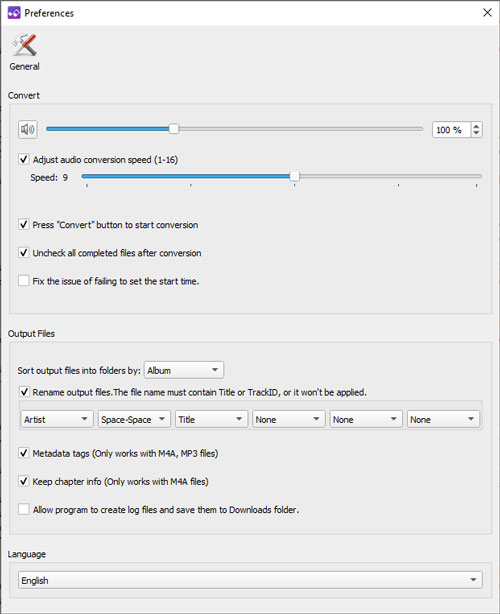 Step 4:

Start the Conversion

There is a "Convert" button that you can click to start the conversion after you've completed the steps above. With the newest conversion technology, you can get the converted files in a short time.

If you want to locate tracks after the conversion, please click on the "Open Output File" (Explore Output File) button.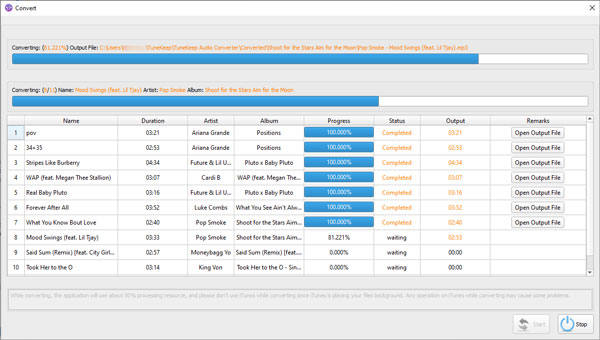 Conclusion
Apple Music and iTunes Match are both good subscription services. You can choose to subscribe to one of them according to your own needs and conditions, or you can even subscribe to both, depending on you. The difference between Apple Music and iTunes Match we've talked about in this article is to help you make better choices. At the same time, if you are interested in converting Apple Music to MP3, you can also try TuneKeep Audio Converter, which can help you in many terms and let you get a brand new music experience.