As one of the most famous and biggest music streaming services with over 65 million users and 50 million songs, Apple Music has a mature operating mechanism. The clear and beautiful interface of Apple Music and the intuitive playback features makes Apple Music become more and more popular during people in all-ages. Apple Music has also launched corresponding terminals for different operating systems. From iPod Touch to Android devices, Apple Music can now run perfectly on them. But still, subscribers are not allowed to use Apple Music songs for other purposes except for listening since the downloaded Apple Music songs are in M4P format, which is encrypted by Apple Music.

Convert Apple Music to M4A for Multiple Purposes
In order to promote Apple Music itself and expand its influence in the music industry, Apple Music has also established a music community for users and artists to exchange and discuss music. This year, Apple Music even launched an official web player to attract more users. Because of these, the number of Apple Music got a sharp rise this year, but problems also come with it.
Subscribers spend a lot of money every year for downloading Apple Music songs, and we believe there are a huge number of users who want to do with Apple Music songs more than just offline listening. But as we mentioned above, Apple Music has a mature operating mechanism, they created an encryption technology, and they use this encryption on their songs, which created M4P format – the format of all songs that Apple Music subscribers downloaded. Files in M4P format are not allowed to be transferred to other devices or used in software programs. To be honest, Apple Music did nothing wrong. In the end, they are a commercial company, and they need to make money in the music industry. But this encryption technology really makes a lot of users feel very confused, and the services that have already been paid are still limited, also makes them angry.

There are a lot of users who are finding a way to enjoy Apple Music on other devices like iPod Nano/Shuffle, older versions of iPod Touch, Sony Walkman, other music players and they also want to burn Apple Music songs to CDs. Some video lovers would love to add their favorite Apple Music songs to videos as BGM, but video edit software like Adobe Premiere, Final Cut X and iMovie are not supporting M4P files. In order to get a better audio quality and all-purpose uses, people choose to convert Apple Music songs from M4P to M4A. Fortunately, TuneKeep Audio Converter is the best M4P to M4A converter which can help all the Apple Music users to convert encrypted Apple Music songs with ease.
If you are one of the users who are looking for the best way to get Apple Music songs without any encryptions and limitations, please continue reading this article and you will see what is good with TuneKeep Audio Converter and how to convert Apple Music to M4A.
Best Apple Music to M4A Converter – TuneKeep Audio Converter
The advantages we listed below are just a part of TuneKeep Audio Converter's amazing advantages, we highly recommend you to download and purchase TuneKeep Audio Converter so that you can find out all the wonderful features of it by yourself.
Features & Advantages of TuneKeep Audio Converter
Convert all Apple Music songs from M4P to plain M4A for all-purpose uses with lossless audio quality
Reserve all ID3 tags like title, artist, album, genre, track number, disc number, etc.
Easily sort and rename output files by ID3 tags and special characters like slash and underline
Convert with 16X faster conversion speed without boring dull and bored waiting
Batch conversion feature helps you convert a large number of Apple Music songs at once
Perfectly run on the latest Windows and macOS since its great compatibility
With all these professional and powerful features, it is actually simple to use TuneKeep Audio Converter. Let's take a look at the user guide of TuneKeep Audio Converter.
Lucid Guide of TuneKeep Audio Converter
Step 1:

Launch TuneKeep Audio Converter

When you launch TuneKeep Audio Converter on your computer, please note that iTunes or Apple Music Application on macOS 10.15 Catalina will be launched at the same time. All the media contents in your iTunes library will be listed as playlists in the left panel.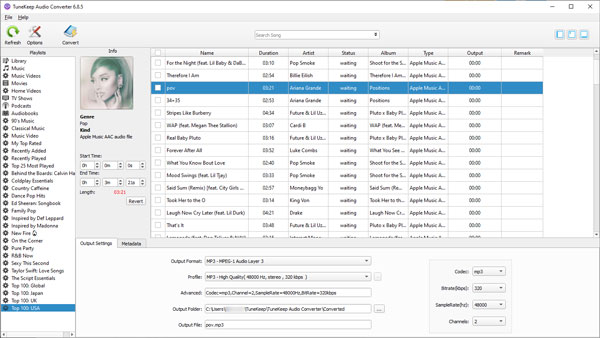 Step 2:

Choose Apple Music songs

All the songs in the playlist will be shown when you click on it. After that, you can choose songs according to your wish, all you need to do is to tick the checkbox of the songs. When you want to convert the whole playlist, you can check the top checkbox in the information bar. If you are seeking a specific song, there is a built-in search box at the top of the main panel.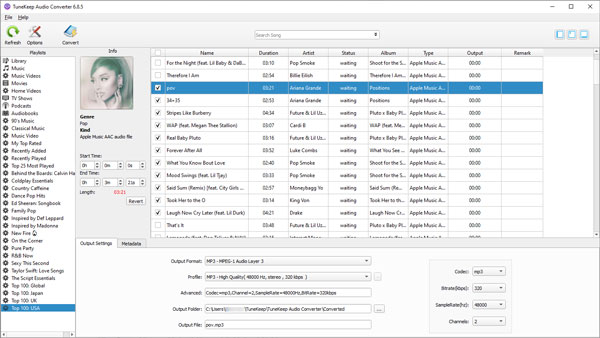 Step 3:

Choose M4A as output format

As we mentioned above, in order to get better audio quality. Actually, M4A files' quality is better and the file sizes are smaller compared to MP3 files. M4A files sound better than MP3 files when encoded at the same bit rate due to some of the enhancements made to the format. You can find M4A format and select it in the Options Settings tab of the bottom panel.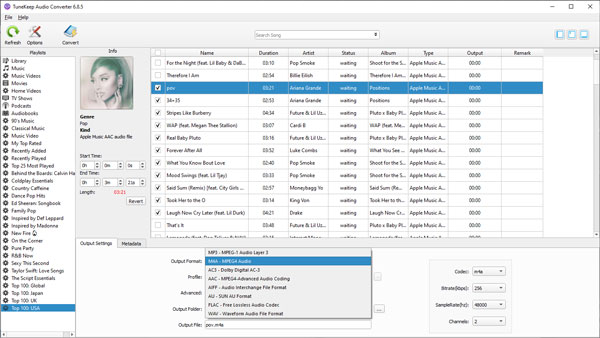 Step 4:

Set options as you need

You can click the Options button in the top left corner and start to set options. In the options window, you can adjust conversion speed from 1X to 16x, change conversion details and choose the way of sorting output files. You can make changes to them freely if necessary..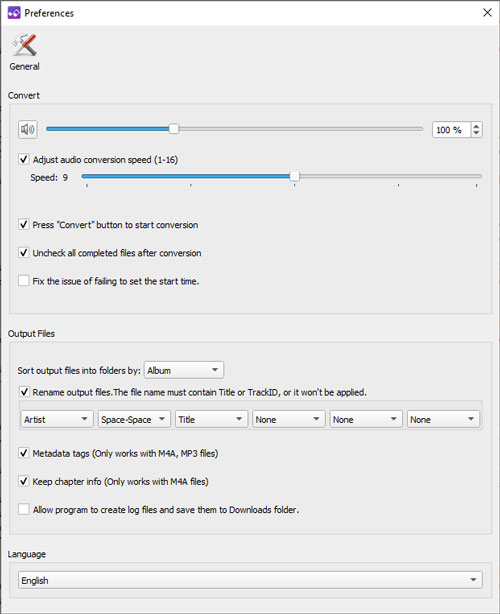 Step 5:

Start converting Apple Music to M4A

When everything is ready, you can simply click the "Convert" button to start converting Apple Music's M4P files to M4A. You can also locate them once the conversion is done by clicking the "Open Output File" button, and you are totally unlimited when using these converted songs. Now please feel free to transfer or sync the output files to your iPod Nano/Shuffle, Sony Walkman and other audio playable devices for offline listening or add them in your video projects as background music!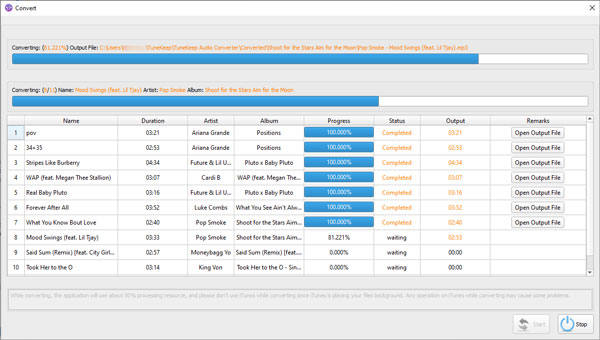 Conclusion
M4A is one of the most popular audio formats that people would love to use since its excellent audio quality and most importantly, it is plain. Apple Music's encryption technology does not make people's passion for music fade away. On the contrary, it arouses people's desire to use them more. The undeniable fact is that Apple Music, as a music streaming service platform, is indeed very successful, and it also satisfies most user's requirements for music. However, the shortcomings are always there, confusing limitations and expensive cost of each song, making TuneKeep Audio Converter appear in front of users. Thankfully, TuneKeep Audio Converter didn't disappoint us. With its help, people can easily convert M4P files to M4A and use them for multiple purposes. This also reflects the ultimate goal of TuneKeep Audio Converte: help Apple music lovers like you and me.