Although M4A is quite a popular audio format nowadays, its popularity and applicability still cannot fight the MP3 format. A lot of music players and music playback programs do not support the M4A format, especially the old-school ones. So it is necessary to make our M4A files to MP3 to avoid being embarrassed when we failed to play them. TuneKeep Audio Converter can be the best helper if you do not like to use iTunes or online free audio converters to do this conversion. Read the article to learn some key facts!

Three M4A to MP3 Conversion Methods You Can Try
1. iTunes (Music app)
Users can convert M4A files to MP3 with iTunes (Music app) easily. You can follow the steps below.
Step 1: If the M4A songs are not purchased from iTunes Store or haven't been added to your iTunes library, you need to add the M4A files to your iTunes library first. Click on "File" > "Add Folder to Library". Find and select the folder that you used to save the M4A files and then click "Open" to add the M4As to iTunes. If the M4A files already exist in your iTunes library, you can skip this step.
Step 2: Click iTunes (on Mac) or Edit (on PC) > Preferences…, or use the shortcut "Ctrl +" to open the Preference window. And then click "Import Settings..." button, and then click the pull-down menu and select "MP3 Encoder" > "OK". You can now choose the song you want to convert. In your music library, click the file you want to convert to select it.
Step 3: Click the "File" menu in the top-left of iTunes and click "Convert" near the bottom of the drop-down menu. You'll see a duplicate song appear in your iTunes library as it instantly converts your file to an MP3.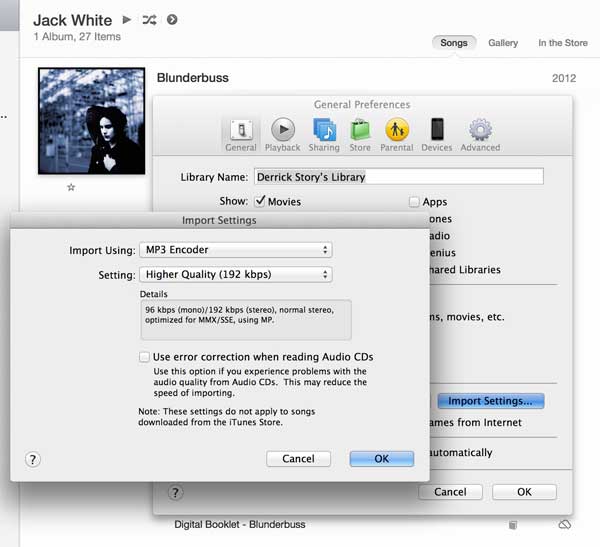 2. Online Converters
If you don't want to use the iTunes (Music app) or you don't want to install any desktop applications, you can still seek help from some online M4A to MP3 converters such as ZamZar, Audio Converter Online, and Audio-Online Converter. We will use Zamzar as an example and show you how to use it to convert M4A to MP3 below.
Step 1: Go to ZamZar and click "Add File" button, browse and select the M4A file that you want to convert.
Step 2: Select MP3 as the output format.
Step 3: Click "Convert" to start the conversion.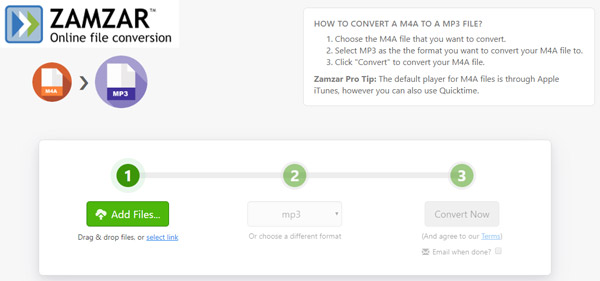 ZamZar is a straightforward online M4A to MP3 converter that users do not need to download any app or program. All you need is a good internet connection. Unfortunately, ZamZar limits the file size up to 100MB, just like other online converters.
3. TuneKeep Audio Converter
TuneKeep Audio Converter is a desktop-based professional audio converter that has a small size, succinct interface, and powerful conversion ability. It is professionally designed for users to convert any M4A files to MP3. Besides, you can also use it to convert any Apple Music songs you added to your music library.
We've listed the advantages and main features of TuneKeep Audio Converter below, if you are looking for an ultimate solution to convert M4A files to MP3 files, or you also want to convert Apple Music songs to MP3, please keep reading.
Why Do We Recommend TuneKeep Audio Converter?
The advantages we listed below are just a part of all the great advantages of TuneKeep Audio Converter, the best way to know about TuneKeep Audio Converter is to download and purchase it. You can find out all the wonderful features of it when using.
Apple Music & M4A to MP3 Converter - TuneKeep Audio Converter
Convert M4A files to MP3 files with 100% lossless audio quality
Convert protected Apple Music to plain MP3 files
Keep every ID3 tag like title, artist, album, genre, etc. in output files
Batch conversion and built-in search bar is provided for users
Convert Apple Music & M4A files to MP3 in up to 16X faster conversion speed
Sort output files with ID3 tags and special characters like "/" and "_"
Support the latest Windows 10 and macOS 10.15
Simple Steps to Convert Apple Music & M4A to MP3 with TuneKeep Audio Converter
Step 1:

Launch TuneKeep Audio Converter

Launch TuneKeep on your computer and the iTunes (Music app on macOS 10.15) will be launched as well. During the conversion, please do not exit iTunes (Music app). After loading, all the songs will be listed in the left panel as playlists.

Please note that the tutorial of M4A to MP3 conversion applies to both M4A songs you purchased from iTunes Store or M4A songs you added to iTunes library from other sources.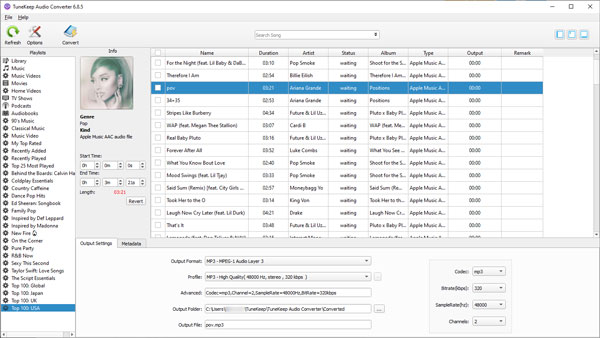 Step 2:

Choose Apple Music & M4A Files that You Want to Convert

Find the M4A files you want and tick the checkbox of it. If you can't locate the M4A files, please enter its title or album in the built-in search box at the top to search them, don't forget to check them after searching. In the same way, you can choose any Apple Music songs in your library.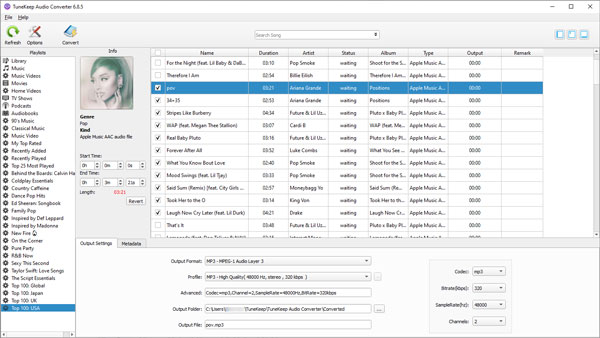 Step 3:

Choose MP3 as Output Format

Click on the Options button at the top left corner and the Options window will show up. You can set conversion speed, adjust volume from it. In the bottom panel, you can choose MP3 as the output format. By default, the converter will set MP3 as output format.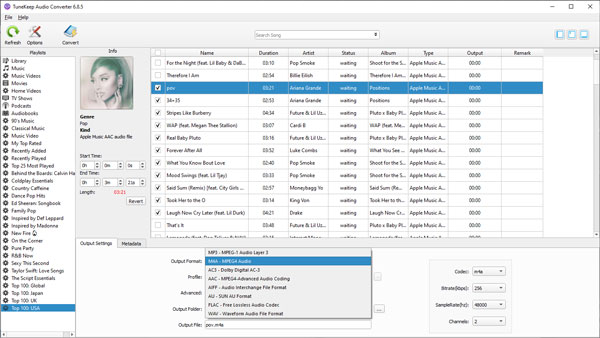 Step 4:

Start Converting M4A to MP3

Once everything is ready, you can click on the Convert button at the top left corner to start converting your M4A files to MP3. The time required for conversion varies with the number of files you select.

After the conversion, you can click the Open Output File button (Explore Output File on Mac) to locate and open the output MP3 files.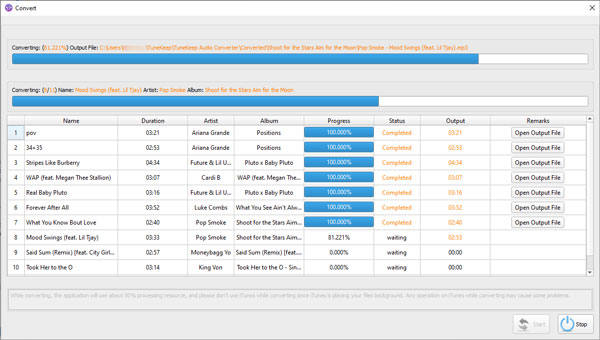 Conclusion
Once you've got your M4A files in MP3 format, you are able to enjoy them on various music playback programs and devices. The audio quality of them will keep as same as the original files, so you do not need to worry about if the conversion or TuneKeep Audio Converter will ruin your music enjoyment, you can still enjoy music with the best experiences. Furthermore, the whole conversion process is fast and stable, you can get what you need in a short time so you don't have to worry about the conversion process disrupting your mood or interrupting your music enjoyment.