Using SD card to store Apple Music tracks is a popular way for people to save storage space on their Android smartphone. Some people copy the Apple Music tracks stored on SD card to MP3 players for playback but ended in failure. This is because the M4P songs on SD card are protected and can't be used on MP3 players like iPod Nano and Walkman. Actually, storing files with a SD card is a practical method. But if you use SD card to store Apple Music songs not only for saving Android device storage, you need to solve the compatibility problems. The solution is to convert Apple Music tracks to plain audio formats which can be stored in SD Card. And in this article, you will learn about TuneKeep Audio Converter and learn how to convert Apple Music tracks to MP3/M4A for copying to SD card.

Two Methods to Save Apple Music Tracks in SD Card
We all know that Apple Music now allows users to download tracks to SD card on compatible Android smartphones and tablets, which means Android users can directly download tracks from Apple Music to the SD card. This is absolutely a good news for all the Apple Music user on Android because downloaded Apple Music tracks are usually with 256kbps high quality and the size of them could be more than 10 MB per track. Apple Music Android app users can save a lot of storage space on their smartphones nowadays but the iOS users are not that lucky. None of the iOS devices support SD card so far and there are still a large number of users who are using an iPhone or iPad with the internal storage space at 64 GB or even less. Once they download Apple Music tracks on their iOS device, their device's internal storage space may fill up instantly, which would cause other applications to malfunction. This tutorial will show you can how to avoid these situations by copying and saving Apple Music tracks in SD card.
Download Apple Music Tracks to SD Card (For Android users)
Step 1: Open Apple Music app on your smartphone and tap the menu icon > Settings.
Step 2: Tap on "Download Location" option and select "Yes" on the pop-up window to select SD card from the list.
Step 3: Accept the prompt when asked if you want to move all the downloaded tracks, along with any future ones to your SD card.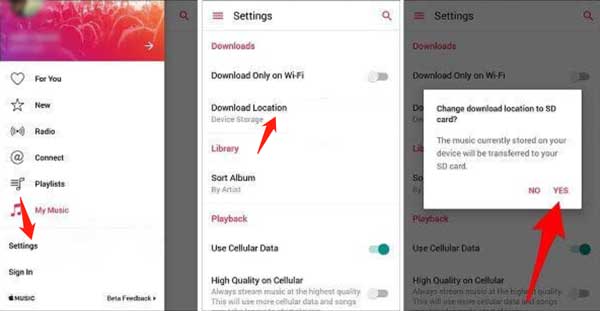 Okay, now all the officially downloaded Apple Music tracks are moved to your SD card. But you can only enjoy them on the "authorized" devices since Apple Music has encrypted all their tracks. The next method that suits both the Android users and iOS users can bypass the encryption of Apple Music and help users to copy and store their Apple Music tracks in SD card.
Copy Apple Music Tracks to SD Card (For both Android & iOS)
iOS users may have found that the Apple Music iOS app can only download tracks to the internal storage of the device, and obviously, none of the iOS devices have a component that can be used to insert an SD card. In this case, we can use a professional Apple Music Converter named TuneKeep Audio Converter to convert the encrypted Apple Music tracks to common audio files like M4A, MP3, AIFF, etc. These common audio files can be easily copied and stored in any SD card, you can also transfer them to other music playback devices. After trying this method, your iOS devices or Android devices' internal storage space will no longer be occupied by Apple Music tracks, and you can really listen to and use these tracks freely.
Lest's first check out the benifit of TuneKeep Audio Converter and then we will show you how to copy and save Apple Music tracks to SD card, if you want to read the guide now, please click here to go to the part of guide.
Best Apple Music Converter - TuneKeep Audio Converter
We have listed the advantages and main features of TuneKeep Audio Converter below, let us tell you that why you should choose TuneKeep Audio Converter to help you convert Apple Music tracks for storing on SD card.
Solve the Problem with TuneKeep Audio Converter
Convert Apple Music track from encrypted M4P to plain MP3, M4A, AIFF, etc.
Keep high audio quality in the converted tracks at 320 kbps
ID3 tags like title, album, artist, genre, artwork, etc. will be fully retained
Convert Apple Music tracks with incredible 16X faster conversion speed
Batch conversion feature and built-in sarch box is provided for users
Fully compatilble with the latest Windows, macOS 10.15 Catalina and Music app
How to Convert and Save Apple Music Tracks in SD Card
Step 1:

Launch TuneKeep Audio Converter

You can launch TuneKeep Audio Converter right after the installation, please mind that when you launch TuneKeep Audio Converter, iTunes (Music app on Catalina) will also get launched. It may take a short time for the converter to load the media files in your iTunes library, after loading, you can see all the media files are listed in the left panel.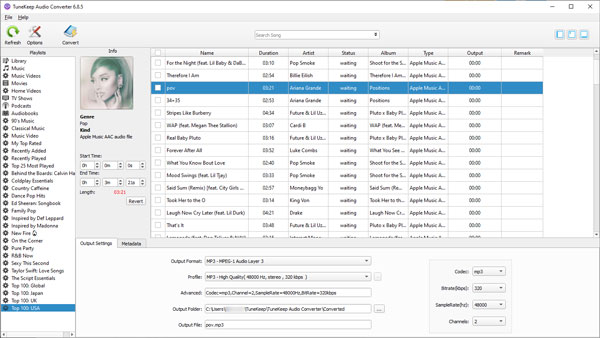 Note: Please do not stream music when the converter is working, and please keep iTunes (Music app) running until the conversion is completely finished.
Step 2:

Select Apple Music Songs

You can locate songs with the built-in search box, or you can click on the playlists in the left panel to show the Apple Music tracks. The tracks will be shown in the main panel, you can check the wanted ones to select them.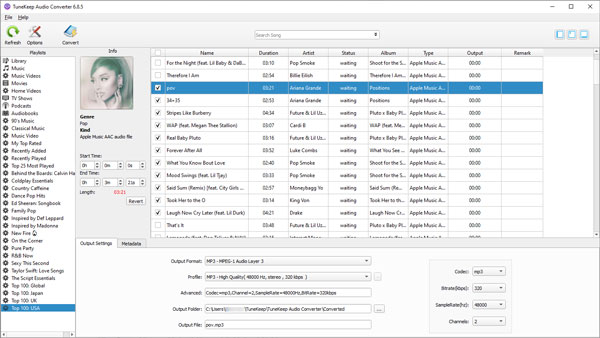 Step 3:

Set Profile and Conversion Options

If you want to store as many Apple Music tracks as possible in the SD card, it is best to choose MP3 as the output format. You can also select the bit rate or other profile in the lower panel. Click the "Options" button in the upper left corner to open the Options window, where you can adjust the volume, set the conversion speed and make other changes.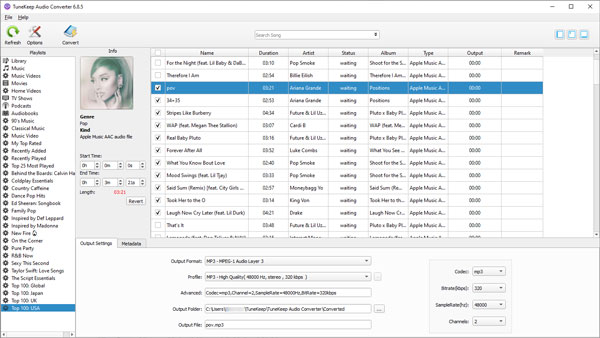 Step 4:

Start the Conversion

When you have completed all the previous steps, you can click the "Convert" button in the upper left corner to start the conversion. After a short wait, you can get the output file. After the conversion, you can click "Open Output File" to locate the output files.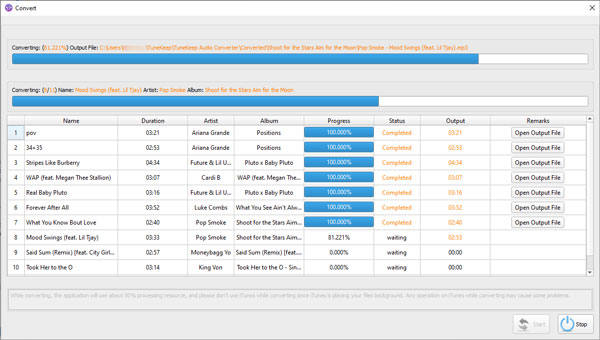 Step 5:

Copy Output Files to the SD Card

After getting all the output files as you want, you can copy them to the SD card. Put your SD card into a card reader, then insert the SD card reader into your computer. After the computer finishes reading, you can open the SD card and copy all the output files to it.
Conclusion
How wonderful it would be when we can save such a lot of storage space on our devices. We hope you can learn how to copy Apple Music tracks to SD card for storage in this article. Copying Apple Music tracks to an SD card should be the best and most convenient way to avoid Apple Music tracks taking up too much storage space on your device currently. The development of TuneKeep Audio Converter is to solve the situation we mentioned in the article, you can safely use it to convert.