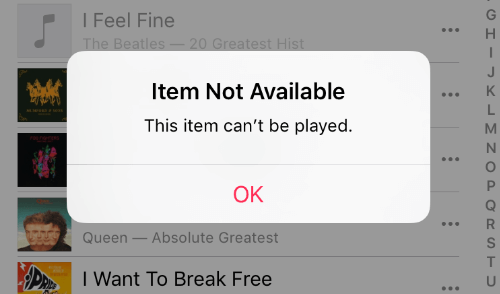 Why Does the "Apple Music Item Not Available" Problem Occur?
You will find some grey out songs in the Apple Music app when using, once you want to stream them and tap it like tapping the other songs, you will receive a wrong message with "Item Not Available. This item can't be played." This disappointing situation can always break someone's mood and music enjoyment. There are many reasons for this problem, incorrect Apple driver installation and update, Apple Music server problems, something goes wrong when the syncing is processing, all these situations could cause to the "Apple Music Item Not Available" problem. So, are there any ways to fix this problem and make it easy again to enjoy Apple Music? We have listed some tips that may be helpful to you below, however, because there are many reasons for this problem, not every solution is applicable. Please choose according to the actual situation.
Solutions on Fixing "Apple Music Item Not Available. This item can't be played."
Solution 1: Check the authorization of Apple Music
Sometimes users may forget how many times did they authorize Apple ID since they may have more than one computer and they keep authorizing iTunes with the same Apple ID until 5 times. After that, they just de-authorize all the computers and that's why the problem happens. For this, you can simply re-authorize the computer again by clicking Account > Authorizations > Authorize This Computer.
Solution 2: Check iCloud Music Library
This is one of the main reasons for the problem. There are many users who forget to turn on the iCloud Music Library on their devices, or it just got turned off automatically. So, the songs will not be downloaded from iCloud and naturally they will be grey out and not available to be played. For this, you can go to Settings > Music on your iOS devices, or go to Menu > iTunes > Preference >General on Mac, if you are using Windows PC, you can go to Menu > Edit > Preference > General. Simply check "iCloud Music Library" to fix the problem.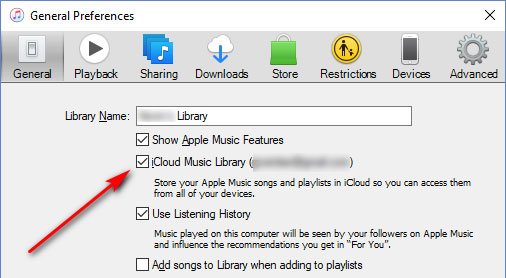 Solution 3: Check the version of iTunes and iOS
iTunes and iOS are updated several times a year, and if you do not update timely, it may cause the problem we are talking about. In this case, you can upgrade iTunes and iOS to the latest version on your devices. For Windows version, you can upgrade iTunes in Microsoft Store if you are using the Microsoft Store version. But if you are using the standalone version, you can also upgrade simply by clicking Apple Software Update from the start menu. On Mac, upgrade iTunes (Music app on macOS 10.15) with App Store is the best way. As to iOS, please upgrade your iOS version to the one that is the supported and latest for your device.
Solution 4: Purchase the copyright-lost songs
It is normal that the copyright owners of some songs decide to stop the streaming of their music works on Apple Music. Once the songs are not allowed to be streamed on Apple Music but you still keep them in your playlists, the "Item Not Available" problem will happen. If you still want to enjoy this song, you can simply purchase it from the iTunes Store.
Solution 5: Wait for the official release of the songs/albums
You can check if there are pre-release albums or songs in your playlists. You can go to the music section on iTunes or go to "Music" app on iPhone, iPad and iPod Touch or open Apple Music app on Android devices then select "Browse" and find "Coming Soon" in the bottom. If you have added the pre-release albums/songs in your playlists, you will need to wait for them to be released since they can't be streamed and the "Item Not Available" message will remind you that they are not allowed to listen yet. All you need to do is to wait for the official release, which may take a few days to two weeks or even longer.
How to Avoid "Apple Music Item Not Available" by Converting Apple Music
Actually, there is a solution that can solve this problem once and for all. Converting Apple Music songs from M4P to MP3/M4A can perfectly solve the problem "Apple Music Item Not Available. This item can't be played" since MP3 and M4A files are always available on Apple Music. You are not only enabled to play your Apple Music songs without any problems but also allowed to burn them to CDs, transfer them to iPod Shuffle/Nano, play them with Sony Walkman or other MP3 players, upload them to Google Drive/One Drive, and even use them for video editing or re-creating.
For that, we highly recommend that you should try TuneKeep Audio Converter. It is designed to help users avoid these kinds of problems. You can easily convert your Apple Music songs to MP3, M4A and some other formats for multiple purposes with it. Come and see what advantages and features else can TuneKeep Audio Converter has.
Features & Advantages of TuneKeep Audio Converter
Convert Apple Music songs to MP3/M4A with 100% original audio quality
Keep all ID3 tags like title, album, artist, genre, etc. from the original song into the converted file
Sort output files into folders easily and rename output files with ID3 tags
Conversion can speed up to 16X faster to save users' precious time
Batch conversion feature meets the needs of converting a large number of songs
Fully compatible with latest Windows, macOS, iTunes and Music app
Even though TuneKeep Audio Converter has so many useful functions, its operation is indeed very easy and clear. Let's take a look at the simple user guide of TuneKeep Audio Converter.
Step 1:

Launch TuneKeep Audio Converter

Launch TuneKeep Audio Converter on your computer and iTunes (Music application on macOS 10.15) will be automatically opened. Remember to keep both the converter and iTunes running until the conversion is completely done.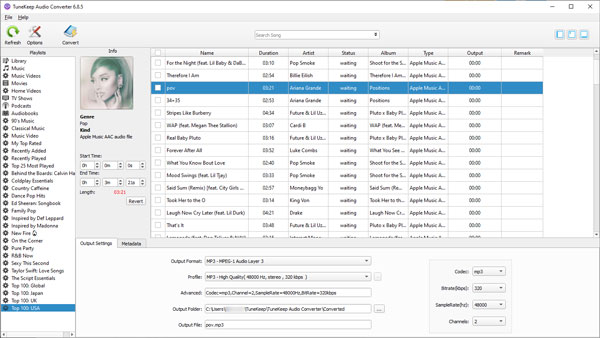 Step 2:

Choose Apple Music tracks and output format

All the songs are listed as playlists in the left panel for you. You can simply choose the ones you need by ticking the checkbox of them. After choosing songs, you can choose the output format for them in the bottom panel, TuneKeep Audio Converter provides MP3, M4A, AC3, AAC, AIFF, AU, FLAC. Our suggestion is to choose M4A or MP3 as the output format since they are the most popular ones.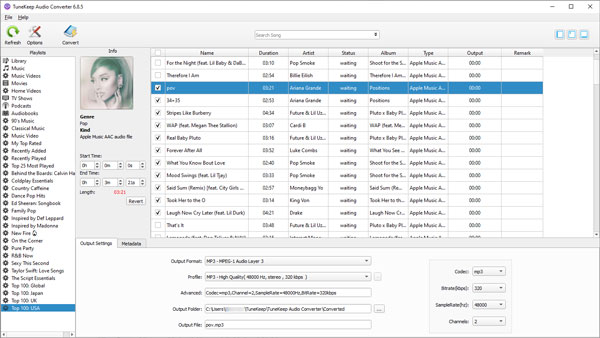 Step 3:

Change conversion setting

There is an "Options" button in the top-left corner and it is made for users to make changes to the conversion. Click it and you will see the Options window, you can set volume, conversion speed and rename or sort your output files here.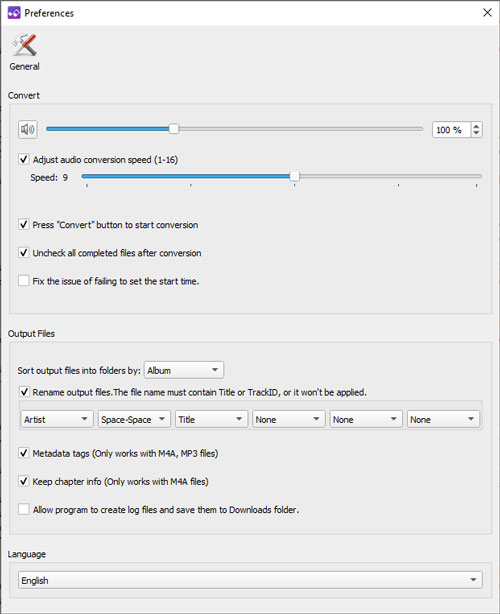 Step 4:

Start the conversion

After setting up everything, you can press the "Convert" button to start converting your Apple Music tracks to MP3 or M4A. You will get the output files soon with the 16X faster conversion speed. If you want to locate them, you can click the "Open Output File" button.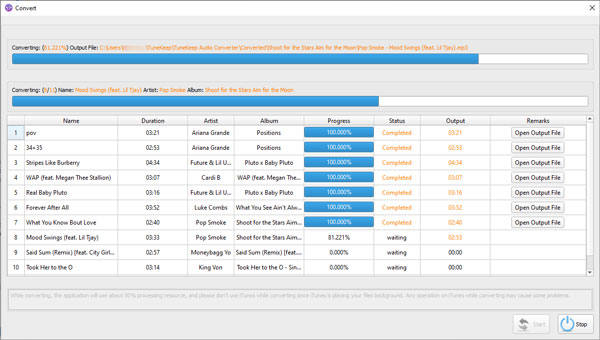 Conclusion
With converting Apple Music tracks to M4A/MP3, the problem "Apple Music Item Not Available" will be perfectly fixed and you do not need to do further operations to keep your Apple Music songs available. It is indeed a once-and-for-all solution as we described. TuneKeep Audio Converter is designed to keep those annoying problems of Apple Music away from breaking your wonderful music enjoyment. If you still have hesitations in it, why not just download the free trial version and have a try now?