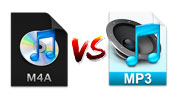 Speaking of music formats, M4A and MP3 must be the top 2 music formats which are widely used in our daily music life. Do you know the difference between M4A and MP3? In fact, even if you use M4A and MP3 every day, you may find it difficult to clearly explain the differences between M4A and MP3. Understanding the differences between these two formats can make our digital life easier. This article explains the differences between M4A and MP3. We will also introduce TuneKeep Audio Converter, which can convert between M4A and MP3, as well as convert Apple Music songs to M4A or MP3.
Advantages and Disadvantages of M4A Format and MP3 Format
Which should be used, M4A format or MP3 format? What is the difference between M4A format and MP3 format? There are many questions like this. Before finding the answer, first take a look at some tips on both formats.
M4A format (* .m4a) is an audio file that does not support video and contains only audio. The M4A format is not an official MPEG-4 file, but an extension decided by Apple Inc. The music formats sold in the iTunes Store use the M4A format, which allows Apple users to purchase and download unprotected music from the iTunes Store. M4A format music is generally encoded using irreversible AAC compression, but in some situations M4A format is also used for Apple ALAC Lossless.
Advantages of M4A format
Since it is encoded with AAC compression, the file size can be reduced while maintaining high sound quality.
After changing the audio extension from M4A to M4R, you can use the M4A file as a ringtone for your iPhone.
M4A format is not protected, so it can be easily streamed or distributed without license or payment.
Disadvantages of M4A format
The M4A format developed by Apple is mainly applied to iTunes, iPod, iPhone, iPad and so on. It works on most Android devices, but still can't be played on many popular devices.
Some popular video editing apps doesn't support M4A format.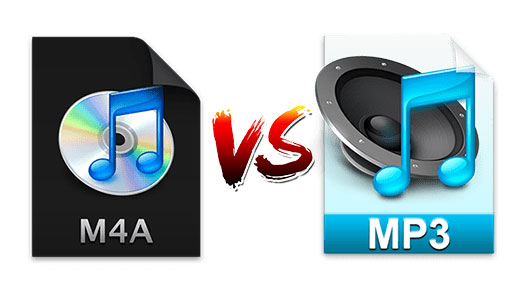 The MP3 format is widely recognized as the most popular and versatile audio format on the market today. Why? Like M4A, MP3 is a file format that only supports downloading and playing audio music. MP3 was introduced in the industry long time before the M4A format. Therefore, it is sometimes said that M4A is an underdeveloped version. The MP3 format uses a compression algorithm that reduces the size of the file. It can be played in MP3 format on most devices, so you can easily save and share it.
Advantages of MP3 format
It can be played and shared on various devices.
The compression algorithm occupies less storage and is easier to store.
Disadvantages of MP3 format
At the same bit rate, the sound quality of M4A format is inferior.
MP3 format is no longer in development. The German research institute that created the MP3 format in 2017 announced that it has terminated the license for certain MP3 related patents.
Differences between M4A Format and MP3 Format
From the above information, you can see that M4A format and MP3 format have a lot in common. For example, both are designed for downloadable music formats and not for other types of digital content. It also uses a compression algorithm, which affects the size and sound quality of the music. Regardless of these two common attributes, they have some differences that distinguish them from each other. So what's the difference between MP3 and M4A? Simply put, the differences between MP3 format and M4A format are mainly in sound quality and compatibility.
Difference in sound quality
Quality is the most important part of music. Music with poor sound quality will not be heard at all. For the same bit rate, M4A files have better sound quality than MP3 files. Therefore, the file size is also relatively large. However, this does not mean that the sound quality of MP3 files is poor. For M4A vs MP3, the sound quality of M4A is wide and excellent. Also, Apple Lossless, which is rare, can compress music to M4A format losslessly.
Compatibility difference
The next differentiator is compatibility. Music format compatibility is simply whether it can be played on a device or used in software. As mentioned at the beginning, M4A is a limited audio format. As a result, some devices, such as older MP3 players, cannot play M4A format. Even the popular video editing app called Vivavideo cannot support M4A. On the other hand, the MP3 format, despite the introduction of M4A, can also explain its high compatibility, which is also the most popular in the industry. When using M4A on devices, software or apps, you need to check if it is compatible with M4A format. If you don't want to check, it's safe to use MP3 format.
Introduction of TuneKeep Audio Converter
Music purchased from the iTunes Store is in unprotected M4A format. Music downloaded from your Apple Music subscription with iTunes or Music app is in protected M4P format. It's easy to convert between M4A format and MP3 format, but you need TuneKeep Audio Converter to convert M4P format to MP3 format.
TuneKeep Audio Converter Features List
Convert between iTunes supported formats like MP3, M4A, WAV and AIFF
Convert Apple Music songs to plain MP3, M4A, FLAC, WAV, AIFF, AC3, AAC, etc.
Convert 256kbps Apple Music songs to 320kbps MP3 or 256kbsp M4A losslessly
Convert at 16X speed on Windows and macOS up to 10.12, convert at 1X speed for macOS 10.13 or above because of system limitation
Keep song title, album, artist, genre, track number, artwork and other ID3 tags
Use ID3 tags like title, album, artist, etc. and hyphen to rename output files in bulk
Sort output files to folders by album, artist, artist/album, etc.
Compatible with the latest versions of Windows, macOS, iTunes and Music app
How to Convert M4A Music and Apple Music Songs to MP3 Format
TuneKeep Audio Converter is very easy-to-use and designed to convert Apple Music songs to MP3, M4A, WAV, etc. However, it can also convert between music formats which are supported by iTunes or Music app. With simple steps, you can easily convert M4A music purchased from iTunes store and songs downloaded from Apple Music to MP3 format. Let's check how to convert M4A music and Apple Music songs to MP3 format.
Step 1:

Launch TuneKeep Audio Converter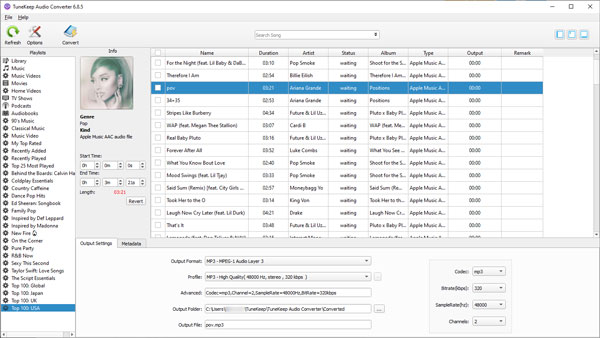 Launch TuneKeep Audio Converter, iTunes or Music app (on macOS 10.15 Catalina or later) will also be launched. Music library will be also loaded automatically. Songs from iTunes Store and Apple Music will be displayed as different playlists in the left panel. Please do not operate iTunes or Music app when converting M4A or Apple Music, and do not close iTunes or Music app until the conversion is done.
Step 2:

Choose M4A and/or Apple Music Songs

Choose a playlist on the left panel first, and tick a checkbox to choose a song. Once the song is selected, the converter will let you know its audio type including MP3, AAC (M4A), WAV or Apple Music AAC files. If you tick the checkbox at the top, all songs in the playlist will be selected. Built-in search box will be a good helper if you want to find some songs quickly by the name of song title, artist or album.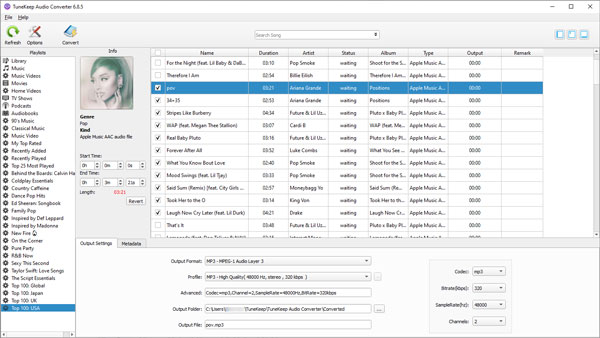 Step 3:

Select MP3/M4A Output Format

MP3, M4A, WAV, AIFF and some more output formats are available in output format list. MP3 is the default output format. Choose 320kbps from profile list, and you will be able to convert Apple Music songs or iTunes M4A songs to 320kbps MP3 losslessly.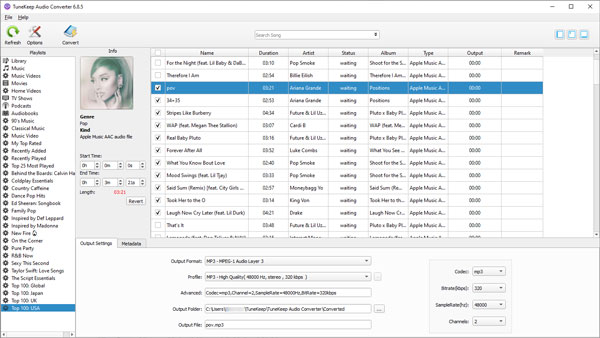 Step 4:

Start M4A or Apple Music Conversion

Click the "Convert" button to start converting iTunes M4A songs or Apple Music songs to MP3 or selected format. After the conversion is complete, click the "Open Output File" button to open the output folder and locate the output files.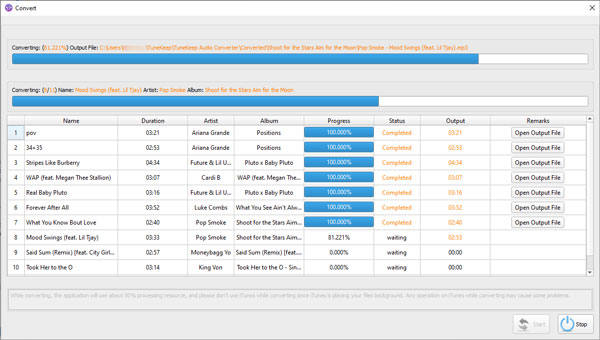 There are many free tools or online websites which can help you convert M4A to MP3 easily. However, converting Apple Music songs to MP3 is much more difficult. With TuneKeep Audio Converter, converting M4A to MP3 and converting Apple Music to MP3 are as easy as a breeze. The free trial version below can convert first 3 minutes of each song. Do not hesitate to have a try now.