The free trial version of TuneKeep Audio Converter (Windows) only converts 3 minutes of each audio file in your iTunes library. You can purchase a lifetime license key to activate the full version and get free lifetime update. In this page, we will show you how to activate the full version and how to use Audio Converter on Windows.
How to activate the full version of TuneKeep Audio Converter (Windows)?
Launch TuneKeep Audio Converter (Windows) and you will see a dialog which tells you that this is an unregistered copy for evaluation purpose only. Click Continue button to continue evaluation, or click Activate button if you have got a license key.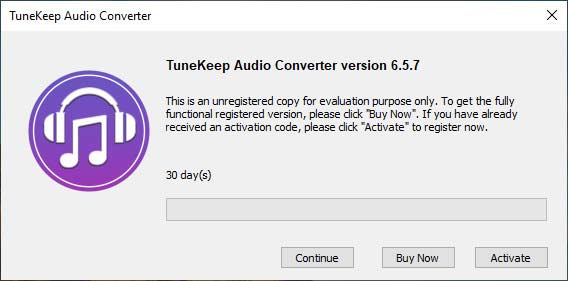 If you click Activate button and you will see "Unlock TuneKeep Audio Converter" dialog, copy your license key from your email and paste in the blank area, then click Unlock button. Once your license key is verified, you will get "activated successfully" message.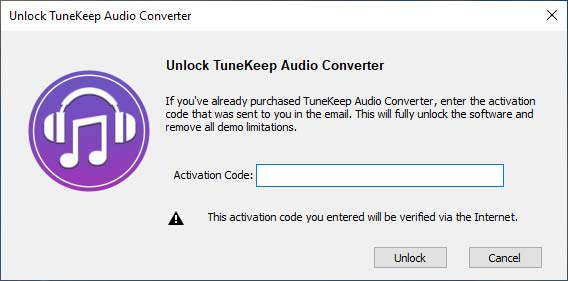 Note: If you have connected to internet and couldn't register TuneKeep Audio Converter (Windows), please contact us via support@tunekeep.com and we will help you activate it offline.
Two free ways to upgrade to latest version
Once you purchased our product, you can enjoy lifetime free upgrade. And you don't need to register again after upgrading to latest version. There are two free ways to upgrade to latest version.
1. Click menu "Help" > "Check for update..." and an update dialog will pop up. Download and install the latest version from the dialog.
2. Open our product page with a browser, click "Free Trial" button to download the latest version, the button always links to latest version. Then simple double-click it to install and overwrite the old version.
Based on your location, sometimes method 1 may not work. In that case, please use method 2 instead.
The user guide below always demonstrates latest version. If you are using an old version, sometimes the interface or the features may be a little different. Please upgrade to latest version and check again.
Step-by-step user guide of TuneKeep Audio Converter (Windows)
TuneKeep Audio Converter (Windows) is intuitive and easy-to-use. Just follow the steps and you can convert your favorite Apple Music songs and audiobooks into MP3, M4A, etc., enjoy them on any smart phones, tablets and game consoles, use them as background music in video editing or DVD/Blu-ray authoring projects, burn to audio CD or copy to SD card and USB flash drive.
Step 1:

Launch TuneKeep Audio Converter (Windows)

Launch TuneKeep Audio Converter (Windows) from desktop shortcut, taskbar icon or start menu. Once it's launched, iTunes will be automatically opened as well. It may take a few seconds or a minute or even more to load the entire iTunes library in the first run depending on the total amount of your files.

iTunes media library will be displayed as playlists in the left panel, including "Music", "Audiobooks", "Podcasts", "Movies", "TV Shows", "Home Videos" and "Music Videos" respectively, as well as different Apple Music Playlists and your own playlists.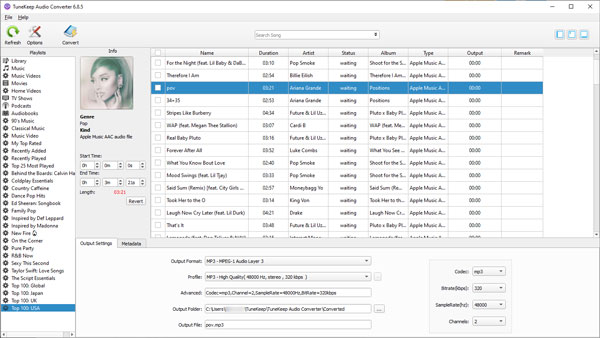 Note: TuneKeep Audio Converter (Windows) can directly convert the Apple Music songs online (added to iTunes library but not downloaded), but we still recommend you open iTunes alone (not launched by Audio Converter) and download the Apple Music songs to iTunes library first. This helps to avoid some problems like "PlayErr".
Step 2:

Choose Apple Music Songs or Other Media Files

Select a playlist in the left panel, and tick the checkboxes to choose multiple songs. You can tick the top checkbox in the information bar to choose all the songs in the playlist. Besides, there is a built-in search box which can help you easily search any songs by title, artist or album. Just type in the keyword and press the Enter button, search result will be displayed soon.

If a song is checked, you can specify Start Time and End Time to convert the trimmed part only. You need to set Start Time and End Time for each song respectively.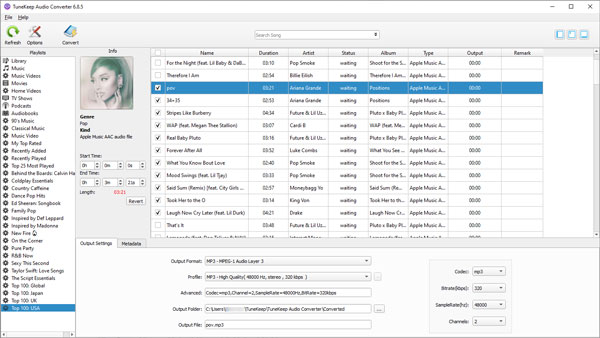 If you want to convert M4B/AA/AAX audiobooks, or extract audio from podcasts, music videos, movies, TV shows or home videos, please choose corresponding playlist respectively. Please make sure you have downloaded them to iTunes library first.
Step 3:

Choose Output Format & Output Folder

TuneKeep Audio Converter (Windows) provides MP3, M4A, AIFF, AC3, AU, AAC, FLAC and WAV as available output formats. Choose the one you need in the Output Format list. You can choose output audio quality preset from the Profile list. If necessary, you can also custom codec, bit rate, sample rate and channels.

By default, output files will be saved in folder C:\Users\(Username)\TuneKeep Audio Converter\Converted, you can click ... button to choose your desired folder.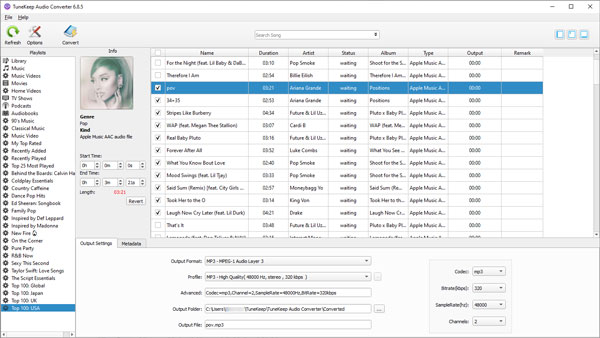 TuneKeep Audio Converter (Windows) will preserve all metadata tags of original songs in the output files, however, you can also change the tags before conversion if necessary. Click "Metadata" tab and you can change title, artist, album artist, album and genre to what you want, as well as use your favorite picture as artwork.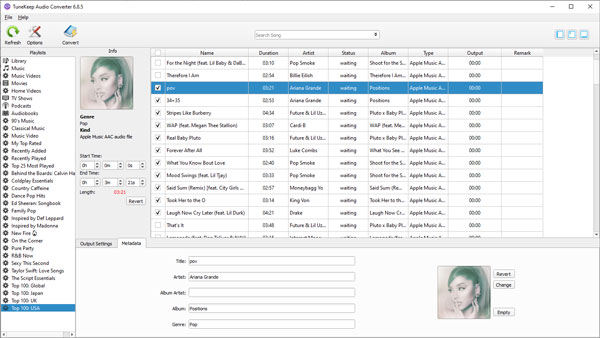 Generally speaking, Apple Music songs or iTunes music come with complete ID3 tags and there is no need to change. We recommend you use this feature only for converting the songs with incomplete ID3 tags or artwork from other sources.
Step 4:

Change Options (Optional)

If you are satisfied with current settings, you can directly click Convert button to start conversion. However, there are also some options which may be useful for you. Click Options button to open Preferences dialog.

You can adjust output volume from 50% to 200% by moving the slider in the bar or typing a value. You can also adjust conversion speed from 1X to 16X. Generally speaking, you can use 16X faster conversion speed for converting downloaded Apple Music songs and other music files, however, if your computer doesn't come with a good hardware configuration, or there are some problems in the output files, you may need to slow down the conversion speed.

You can sort output files into folders by album, artist or artist/album. Besides, you can rename the output files in batch by using Title, Artist, Album, TrackID, hyphen (-) or Space-Space ( - ). The rule must contain Title or TrackID, otherwise the rule won't work.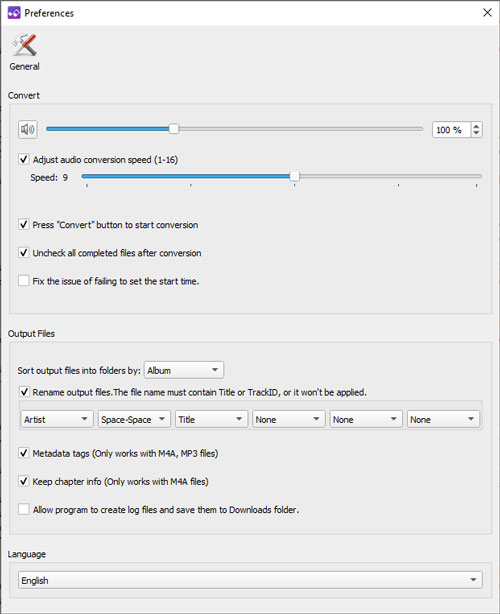 If Apple Music songs are downloaded to default iTunes Media folder, and you select to sort output files into albums, rename it using Artist, Space-Space and Title, then the path of original Apple Music song and the path of output file should be like below if we take the song "Whenever, Wherever", which is the third track in album "Laundry Service" sung by "Shakira" as example.
Apple Music: C:\Users\(Username)\Music\iTunes\iTunes Media\Apple Music\Shakira\Laundry Service\03 Whenever, Wherever.m4p
Output MP3: C:\Users\(Username)\TuneKeep Audio Converter\Converted\Laundry Service\Shakira - Whenever, Wherever.mp3
Check "Metadata Tags" for converting music and videos to MP3 or M4A, check "Keep chapter info" for converting audiobooks to M4A.
Besides, you can choose interface language from English, French, German, Spanish, Japanese and Chinese.
Simply click the X button in the upper right of the preferences dialog and the options you changed will be applied.
Note: Audiobooks from iTunes Store, Audible or other sources may last several hours or 10 hours or longer. It's strongly recommended to convert audiobooks at lowest conversion speed.
Step 5:

Start Conversion

Now simply click Convert button to start conversion. The items will be converted one by one. When conversion progress of one item is done, you can simply click "Open Output File" button to open the output folder and locate the file.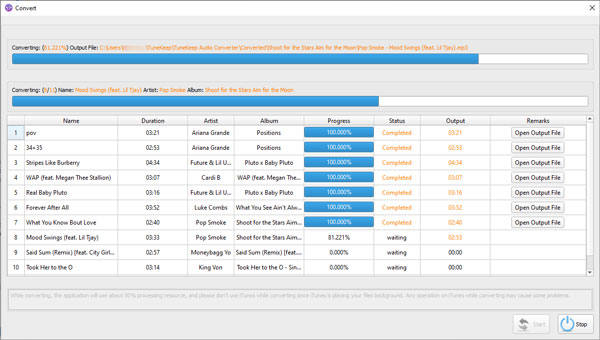 Warning: Please do not exit iTunes when converting, nor operate iTunes like playing songs or downloading files from iTunes Store. Otherwise, the program may crash or freeze and the conversion will fail. If you don't stay in front of your PC and need to convert a bulk of songs, we recommend you turn off screensaver to avoid conversion failure.