If you are using TuneKeep Spotify Music Converter (Mac) free trial version, you will be limited to convert 3 minutes of each song from Spotify. You can purchase a license key to unlock the full version of TuneKeep Spotify Music Converter, which has no limitations. This detailed user guide will show you how to unlock the full version and use Spotify Music Converter on Mac efficiently.
How to unlock the full version of TuneKeep Spotify Music Converter (Mac)?
Launch TuneKeep Spotify Music Converter (Mac) from launchpad first and the program will pop up a unlock dialog for you as below. It is reminding that you can click "Continue" to use the free trial version, or you can click "Enter Key" to type or copy your license key.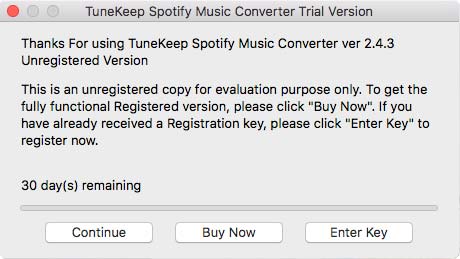 Once you click "Enter Key" button, another dialog with a blank block will pop up, you can simply copy & paste or type your license key in the block and click activate to complete the registration.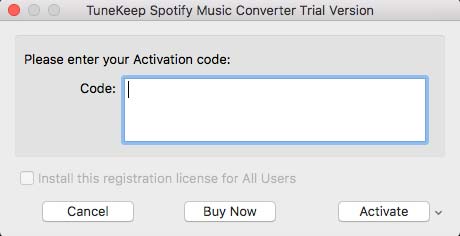 Note: If you are failed to register TuneKeep Spotify Music Converter (Windows) with available Internet services, please contact us via support@tunekeep.com. We will help you to activate it offline.
Two free ways to upgrade to latest version
Once you purchased our product, you can enjoy lifetime free upgrade. And you don't need to register again after upgrading to latest version. There are two free ways to upgrade to latest version.
1. Go to menu bar, click "Help" > "Check for update..." and an update dialog will pop up. Download and install the latest version from the dialog.
2. Open our product page with a browser, click "Free Trial" button to download the latest version, the button always links to latest version. Then simple double-click it to install and overwrite the old version.
Based on your location, sometimes method 1 may not work. In that case, please use method 2 instead.
The user guide below always demonstrates latest version. If you are using an old version, sometimes the interface or the features may be a little different. Please upgrade to latest version and check again.
Detailed user guide of TuneKeep Spotify Music Converter (Mac)
Although the uses of TuneKeep Spotify Music Converter (Mac) is simple and easy-to-understand, you may need some help to avoid some errors or problems when using the converter. Follow the steps below and it can help you to download and convert Spotify music songs to MP3, M4A, etc. and enjoy them on multiple devices more clearly and more efficiently. TuneKeep Spotify Music Converter for Mac can automatically skip audio advertisement when using Spotify Free, and help you break the limitations of the downloaded Ogg files with encryption when using Spotify Premium.
Note: When launching Spotify Music Converter on macOS Catalina or later for the first time, you will be asked whether to allow the program to access your microphone, data and documents in "Spotify" and Document folder. Please click OK to allow. This will allow Spotify Music Converter to record music from Spotify, work and operate with Spotify and save output files.
Step 1:

Launch TuneKeep Spotify Music Converter (Mac)

Because of the technical needs, it is necessary and automatic for Spotify to start with the converter, and for this reason, please do not exit the Spotify when you are using the converter. We need to remind you that you will need the latest version of both Spotify and TuneKeep Spotify Music Converter to convert Spotify songs correctly and successfully. Please note that the interface language will be the same as your system language and it can't be changed.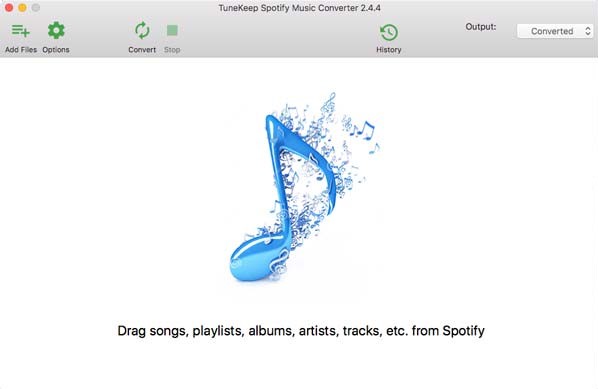 Step 2:

Add Spotify Songs, Albums, Playlists or podcasts

We provides two different ways for you to add music from Spotify to the converter. You can choose one of them according to your habit.

The first way needs you to make a "drag & drop" operation. Before you drag songs, albums, playlists or podcasts from Spotify and drop them into Spotify Music Converter, make sure both Spotify and the converter are displaying on the screen. You will need to add music in another way if you want to display Spotify in maximized mode.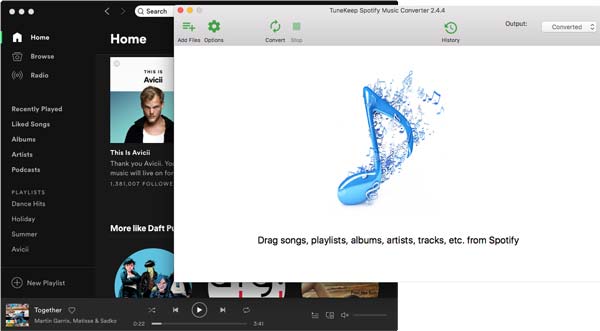 The second way is to copy link from Spotify and paste link to the converter. Click "Add Files" button at the top left corner and you will see a link bar at the bottom of the converter. In fact, if this method is too trouble for you, you can still do the drag-and-drop operation here.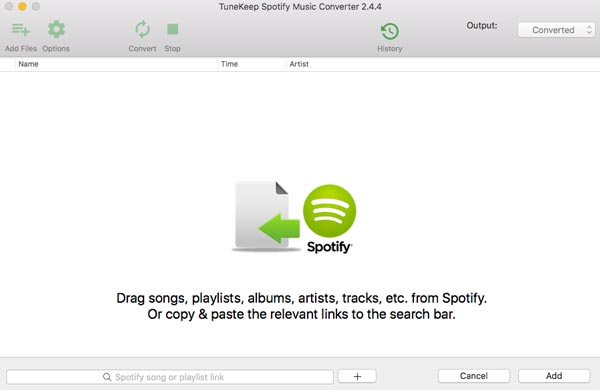 Now please switch to Spotify, you will need to copy the link of songs, albums, artists, playlists, etc. Right-click one of them to open the popup menu and you will see the "Share" option, then click "Copy Song Link", "Copy Album Link", "Copy Artist Link" , "Copy Playlist Link" as you need. When copying a podcast playlist or a single podcast, you will see "Copy Show Link" or "Copy Link" respectively. Here in the illustration we copy a playlist link as an example. Now switch back to the converter, you need to paste the link you just copied to the link bar.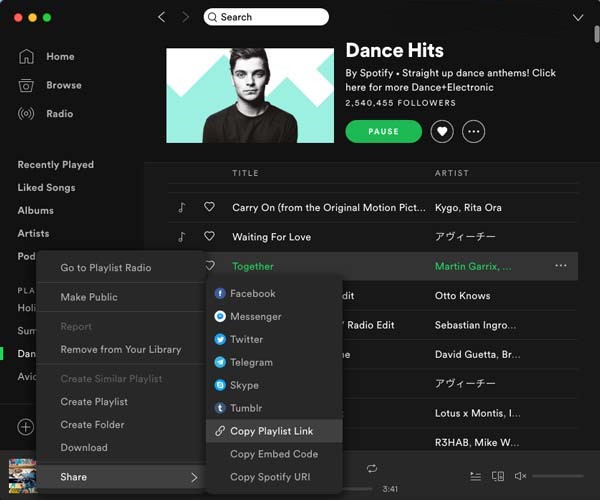 Note: In case there are more than 99 songs in the playlist you want to add at one time, the above two methods can only allow you to add up to 99 songs. To solve this problem, you can first open the Spotify playlist, use the hotkey "Ctrl + A" to select all the songs in the playlist, at last, use drag and drop to add them to the converter.
Step 3:

Choose Tracks

For now, all the songs, albums or playlists you wanted are added from Spotify to converter. The converter will jump from main interface to selection interface for you to choose songs. The converter will automatically checked all the added songs by default, of course you can uncheck those ones that you don't want to download and convert. Click "Add" button after you have chosen all the wanted songs and they will be added to the conversion list then.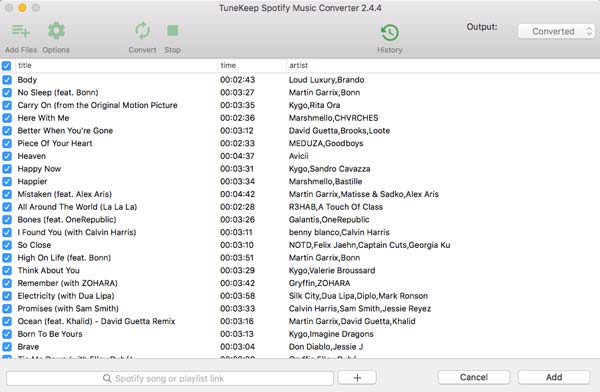 Step 4:

Output Options

Before downloading and converting Spotify music, you can change the output settings depending on your need. There are some useful options which can help you enjoy better experience. Click Options and you will see two tabs which are "General" and "Advanced".

In General tab, you can open and change output folder, check playlist downloading options, select how to sort output files into folders, select how to act when re-converting existed files, select quality of album artwork and the way you want to rename the output files.
In Advanced tab, you can choose output format and set related parameters as well as adjust output volume.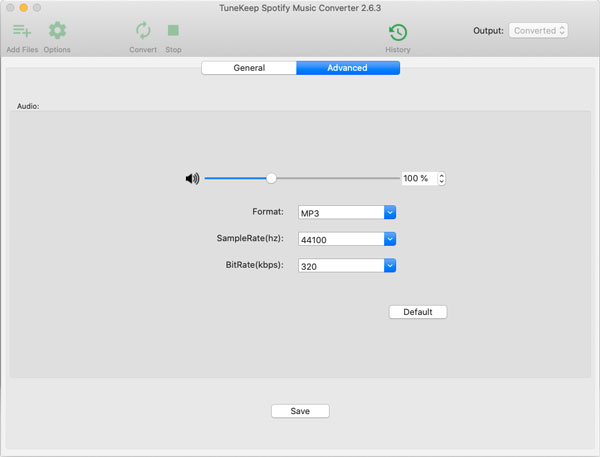 Click Save to apply the changes.
Step 5:

Start converting Spotify Music on Mac

Finally you have achieved to the last step. You only need to press the "Convert" button and the converter will start downloading and converting Spotify music to MP3, M4A, WAV, FLAC with 100% audio quality and all ID3 tags kept one by one.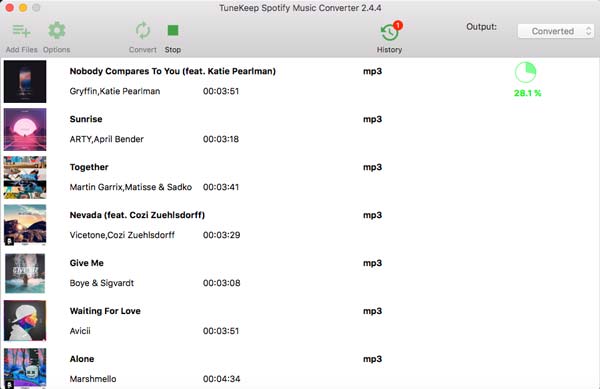 Click "History" button to open output history management, click the little blue folder icon to locate converted songs, or you can click "Remove" or "Remove All" button to remove conversion history or output files depending on your need.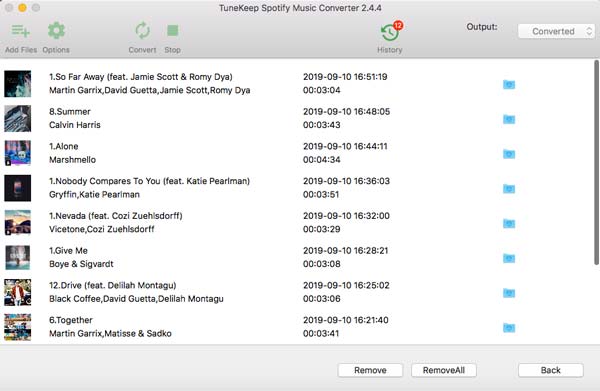 Once the conversion is completed, you can copy or sync output files to multiple devices like iPhone, iPad, iPod, or Android devices. Classic MP3 players and any MP3/M4A/WAV/FLAC playback devices can be used to play your Spotify music now. You can also use them in iMovie, Final Cut Pro, etc. when making video edits. Now you will have unlimited fun of enjoying Spotify music.