With the free trial version of TuneKeep Spotify Music Converter (Windows), each song in Spotify can be converted for 3 minutes at most. To experience the full version with amazing features and get lifetime free update, you need to purchase a license key. The user guide below will show you how to use TuneKeep Spotify Music Converter clearly.
How to activate the full version of TuneKeep Spotify Music Converter (Windows)?
After you have launched TuneKeep Spotify Music Converter (Windows) and got to see the interface, please mind the top right corner where there will be a key icon placed. Click the key icon, enter your activation code or simply copy and paste it in the blank area and click "Unlock" to complete the activation.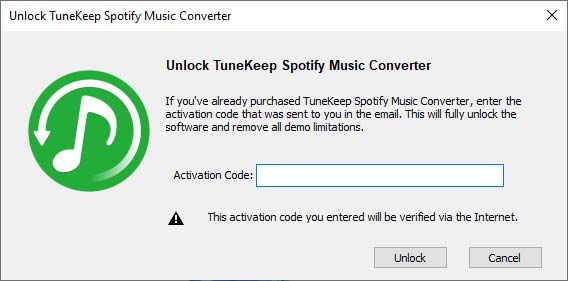 Note: If you have connected to Internet but cannot register TuneKeep Spotify Music Converter (Windows), please contact us via support@tunekeep.com and we will help you to activate it offline.
Two free ways to upgrade to latest version
Once you purchased our product, you can enjoy lifetime free upgrade. And you don't need to register again after upgrading to latest version. There are two free ways to upgrade to latest version.
1. Click the little triange button (▼) in the upper right, click "Check for update..." and an update dialog will pop up. Download and install the latest version from the dialog.
2. Open our product page with a browser, click "Free Trial" button to download the latest version, the button always links to latest version. Then simple double-click it to install and overwrite the old version.
Based on your location, sometimes method 1 may not work. In that case, please use method 2 instead.
The user guide below always demonstrates latest version. If you are using an old version, sometimes the interface or the features may be a little different. Please upgrade to latest version and check again.
Comprehensive user guide of TuneKeep Spotify Music Converter (Windows)
Read and follow this comprehensive user guide and you will know how simple and convenient converting your favorite Spotify music into MP3, M4A, WAV, FLAC or OGG can be. After conversion, no matter you want to enjoy converted Spotify music on other devices or use them as background music for video edits, that will be totally free and unlimited. TuneKeep Spotify Music Converter can automatically skip audio advertisement when using Spotify Free, and help you break the limitations of the downloaded Ogg files with encryption when using Spotify Premium.
Step 1:

Launch TuneKeep Spotify Music Converter (Windows)

Before launching TuneKeep Spotify Music Converter, please note: it is normal that Spotify will be launched simultaneously with the converter. Make sure you have installed the latest version of Spotify, when the converter is working, please keep Spotify running as well.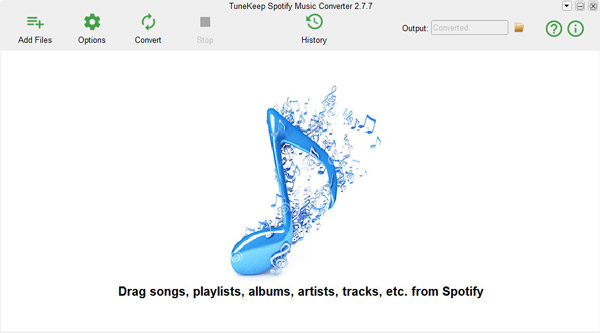 Step 2:

Add Spotify Songs, Albums or Playlists

You can add music from Spotify to the converter for download and conversion in two ways, both of them are quite simple.

The first way is also the recommended way, you can drag & drop songs, playlists, albums, artists, etc. from Spotify to Spotify Music Converter. You are allowed to drag from Spotify and drop into the icon of Spotify Music Converter in the task bar. Or you can display both Spotify and Spotify Music Converter in the same screen first and make the drag-and-drop operation, which is more intuitive.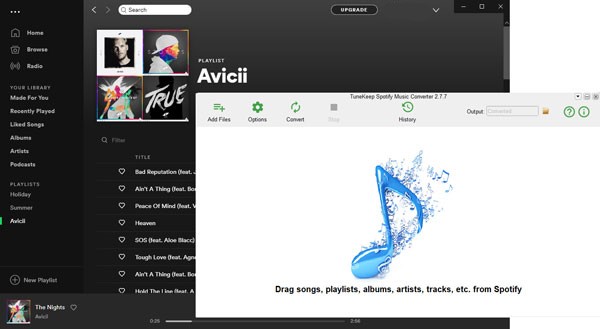 The second way is "copy & paste", just simply copy the link from Spotify and paste it to the converter. Click "Add Files" button and then you can find a link bar at the bottom of the program. If needed, you are still able to use drag-and-drop operation in this step.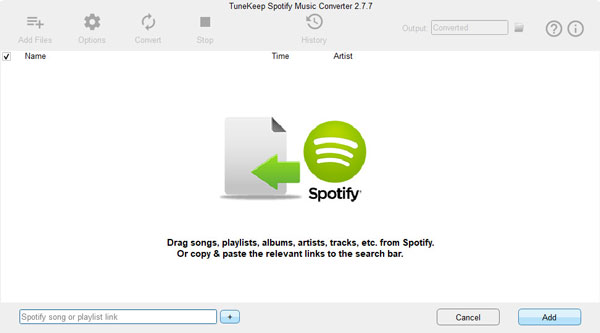 Please get back to Spotify now, selct a song, an album, an artist, or a playlist that you want to add, right-click it and move the mouse to "Share"option in the popup menu, find "Copy Song Link", "Copy Album Link", "Copy Artist Link" or "Copy Playlist Link" and click it to copy. In the image below we copy an playlist as example. Paste the link that you just copied into the link bar of Spotify Music Converter and click "+" button to add songs, albums or playlist in the converter.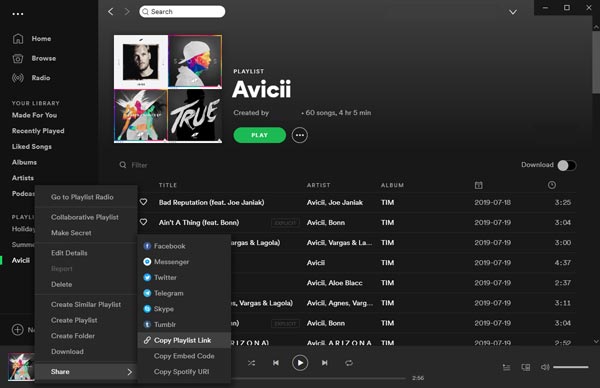 Note: If there are more than 99 songs in a playlist, no matter you use copy & paste or drag & drop to add the playlist, only up to 99 songs can be added. But don't worry, you can still add them all at one time by opening the playlist in Spotify, use "Ctrl + A" shortcut to select all the songs in the playlist, then drag and drop them to Spotify Music Converter. This will let you add more than 99 songs at one time.
Step 3:

Choose Tracks

Once you have finished adding songs from Spotify, you can choose songs that you want to convert in the songs selection dialog, which poped up by the converter. Generally speaking, all the songs will be checked automatically by default. But if you've made a mistake when adding songs and there are some songs that you do not want to download and convert, you can simply uncheck them. After that, Click "Add" button to add selected songs to the conversion list.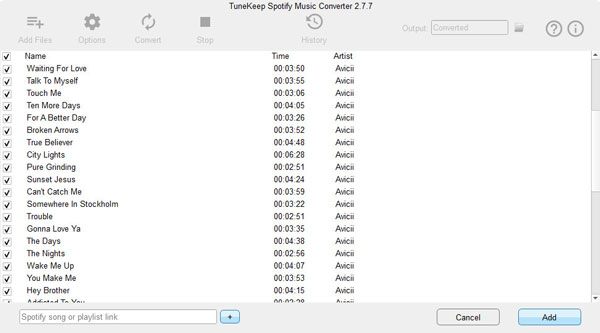 Step 4:

Choose Output Folder and Output Format

You have added all the songs you want into the conversion list now. If you don't want to make any changes, the program will set output format as 44100Hz, 320kbps MP3 automaitically. And the following folder "C:\Users\(Username)\Music\TuneKeep Spotify Music Converter\Converted" is where the output files will be saved by default. But if you do want to make changes of the output files, you can click "Options" button to open the options dialog, which you will see a General tab and a Advanced tab.

In General tab, you can make many selections on different settings like output folder and user interface's language. Also in this tab, you can add track number to output file name and sort output files into folders by artist, album or artist/ablum. Besides, you can rename the output files by using title, - (hyphen), Space-Space (a space before & after the hyphen), artist, album, track number, etc. However, when renaming, title or track number is necessary.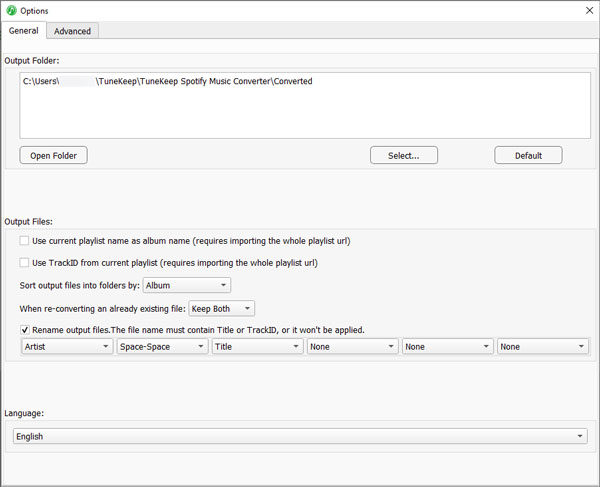 You can change the output format in Advanced tab, there are 6 formats available: MP3, M4A, WAV, FLAC, OGG and AIFF, you can choose one of them depending on your need. You can also set sample rate and bit rate. If you want to play the songs while converting, set Spotify Sound to "Unmute". In each tab, if you are not satisfied of the setting you just changed, you can click Default button to reload default settings. Close Options dialog when you decide to convert Spotify music with current settings .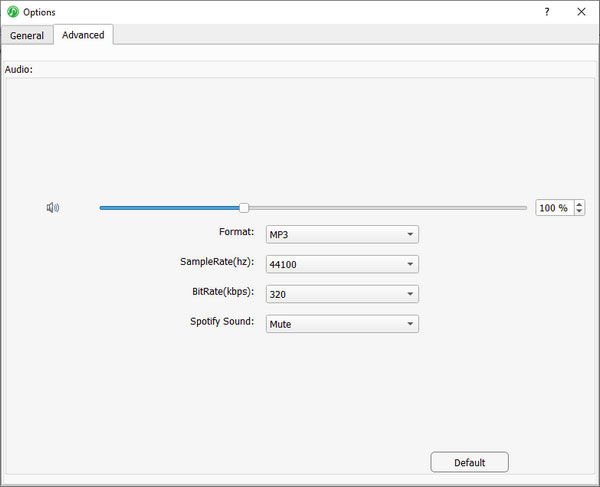 Step 5:

Download and convert Spotify Music on Windows

Press "Convert" button and the converter will start downloading Spotify music as MP3, M4A, WAV, FLAC or OGG. The converter will convert songs one by one immediately. Besides, all ID3 tags like song title, album, artist, genre, artwork will be preserved after conversion.

Note: Spotify's update makes the music downloading a little inconvenient. When the converter starts to download songs, your mouse will move automaticlly like clicking Spotify,then the Play button, Stop button and repeat this action in order to get music information and download the track. So please do not interrupt this automatic move, if not, the music download may fail and show up an "unknown error". So we suggest you not to use mouse when Spotify Music Converter is working on downloading songs.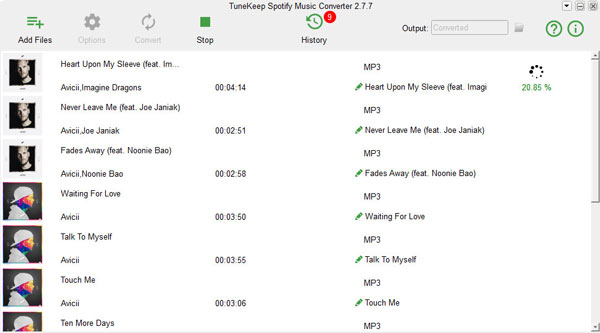 History button is built for users to open output folder so that you can locate output songs. If you want a feature that can help you to remove conversion history or output files, TuneKeep Spotify Music Converter has also provided it for you in History panel.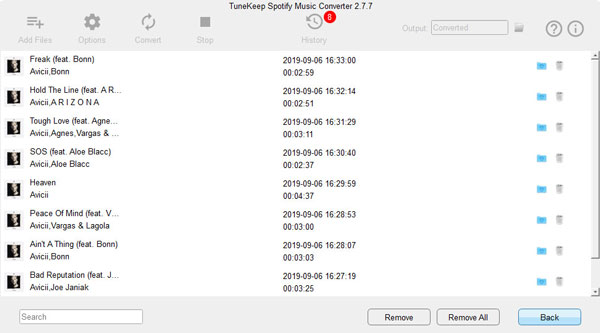 When conversion is done, you can add those converted songs to iTunes library and sync to Apple devices like iPod Nano/Shuffle, iPad or copy them to MP3 players like Sony Walkman or any MP3/M4A/WAV/FLAC/OGG playable devices. You can even burn to CDs for other audio enjoyment or just use the converted songs for other usages.