Before the advent of online music streaming like Spotify, we had always enjoyed listening to music offline. Indeed, the development of Spotify has enriched the music that people can listen to and made listening to music more convenient. This is the original purpose of its development. These years, users are seeking for Spotify rippers to rip songs from Spotify instead of directly download from Spotify because the limitations of Spotify becomes more and more. In this post, we will show you some common Spotify music rippers and the best Spotify music ripper – TuneKeep Spotify Music Converter.
Free Spotify Rippers You Can Try
Today, people still enjoy listening to songs offline in various ways. For example, people will use iPod Nano, iPod Shuffle, Sony Walkman, or other MP3 players to listen to music. CD players and car stereos are also popular. Obviously, Spotify's restrictions on listening to music offline cannot satisfy its users. Every Spotify users want to enjoy Spotify music in their ways, like play on iPods, we have to admit that is a beautiful thing to look forward to, but the facts seem to run counter to users' expectations.
Some users noticed that ripping Spotify music can bypass the limitations of Spotify and get free while listening to their favorite Spotify music. For that, we've got you some Spotify rippers that are recommended in the market.
1. Spotify
Spotify is a Spotify music to mp3 converter, which can only rip music from the Spotify desktop. It only has a Windows version at the moment. The best advantage of Spotify is that it is a free open source program. It cannot provide lossless music quality, and ID3 tags cannot be retained. If you just want to rip the pure Spotify audio file, Spotify could be a good option.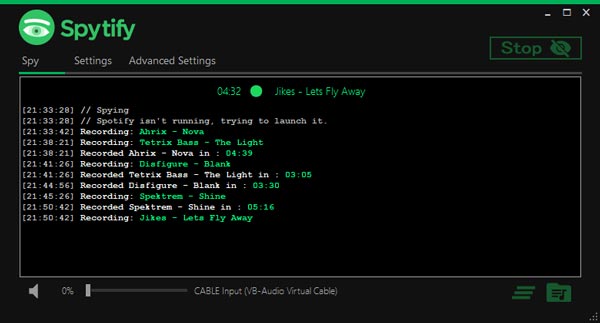 2. Fildo
Fildo focuses on the Android market, but also has a corresponding Windows 10 version, both versions are free. Android users may keen on choose Fildo to rip Spotify music from the Spotify Android app, but just like Spotify, Fildo does not provide high-quality audio ripping and the song information is unable to be kept.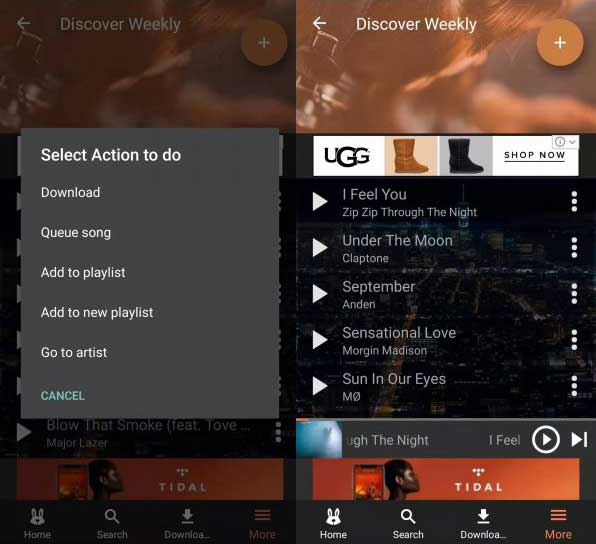 3. AllToMP3
AllToMP3 is a web ripper that can rip audio from YouTube, SoundCloud and Spotify. Users do not need to download any app or program to rip Spotify music. Similarly, AllToMP3 is free and easy-to-use, but it also has the same disadvantages as Fildo and Spotify. The ripped files of AllToMP3 are in lossy audio quality.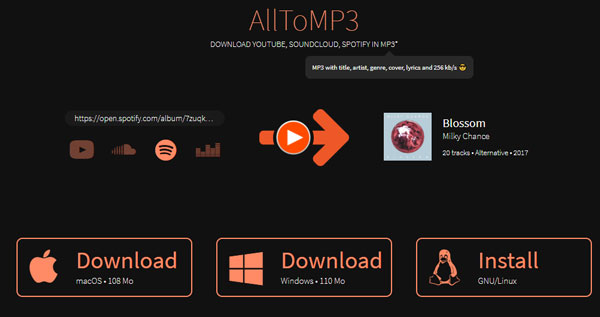 Rip Spotify Music Converter with TuneKeep Spotify Music Converter
After knowing these free Spotify rippers, you may find out that all of them have an obvious defect, that is they can't provide output files with high audio quality. The ripped Spotify songs of them are actually lossy so that you may have an unsatisfactory music enjoyment if you choose to rip your Spotify songs with these free rippers. In this case, TuneKeep Spotify Music Converter can be your loyal helper.
TuneKeep Spotify Music Converter is a professional and efficacious Spotify ripper. It can help every Spotify user to rip Spotify music and get it in plain files such as MP3, M4A, WAV and FLAC. We also listed the main features and benefits of TuneKeep Spotify Music Converter, please keep reading the article and find out.
Best Spotify Ripper – TuneKeep Spotify Music Converter
Rip Spotify music in plain formats like MP3, M4A, WAV, FLAC from Spotify
Spotify songs ripped by TuneKeep Spotify Music Converter retain the original audio quality
All the ID3 tags (track information) like album, artist, genre, etc. can be kept in the output files
Users can organize output files by "artist", "album" and "artist/album"
Batch conversion and built-in search-box are provided, which make conversion flexible
Rename output files in bulk by album, artist, track number, hyphen, space, etc.
Simple Guide of TuneKeep Spotify Music Converter
After learning the features and benefits of TuneKeep Spotify Music Converter, it is time to know how exactly to use it to rip Spotify songs. Here is a simple guide for you.
Step 1:

Open TuneKeep Spotify Music Converter

After opening, please finish the registration first. If you want to use the free trial version, then please note that you can only rip the first 3 minutes of each Spotify song with it. Spotify will also get opened by TuneKeep Spotify Music Converter since it is required for ripping. Please also be careful not to exit Spotify until the ripping is completed.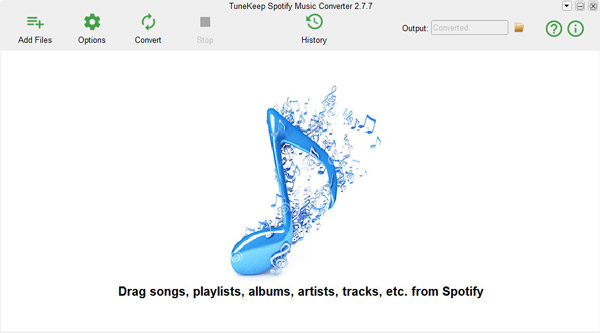 Step 2:

Add Songs from Spotify

There are two ways you can use to add songs from Spotify to Spotify Music Converter. One is called "drag and drop", and the other is called "copy and paste". With the "drag and drop" way, you can simply drag songs, playlists and albums from Spotify and drop them into the converter.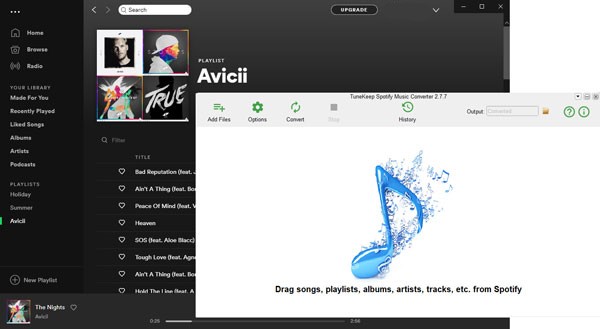 With the second way, "copy and paste", you will need to click on the "Add Files" button at the top-corner first and then go to Spotify to copy a link of the song, playlist or album. Now go back to the converter and paste the link you just copied in the bottom link bar. After that, please click the "+" button.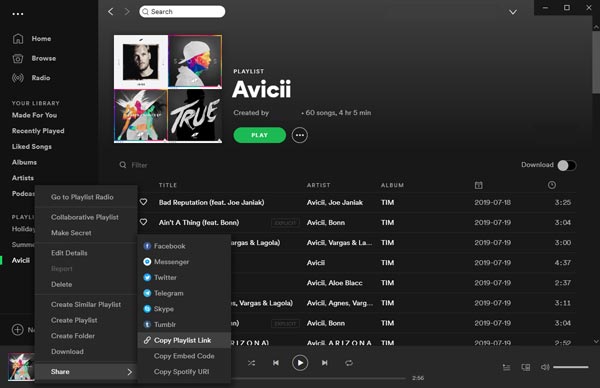 All the songs will be listed and checked immediately, you can uncheck the songs you don't really want to rip by unticking the checkbox of them.
Step 3:

Select Output Format and Set Options

An "Options" button is placed in the top-left corner, click it and you can open the Options window. You can select the output format, adjust volume, set conversion speed, select the sorting way and make other changes in this window. Make sure not to set anything that does not suit your needs.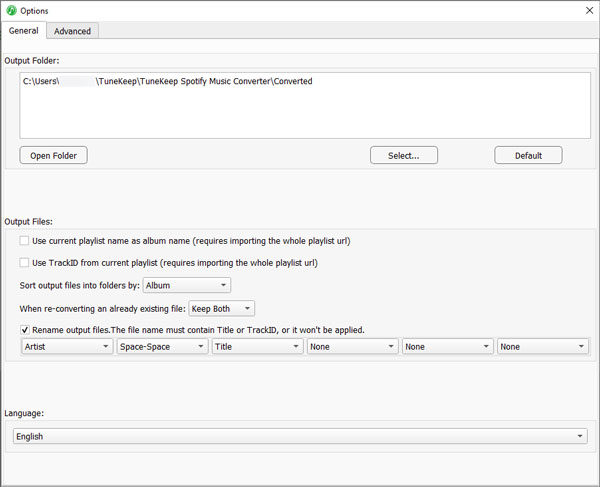 Step 4:

Start Ripping Spotify Music

Once you are ready, you can softly click the "Convert" button from the top-left corner to start the ripping. TuneKeep Spotify Music Converter will get to work as soon as possible and rip songs fast and stably.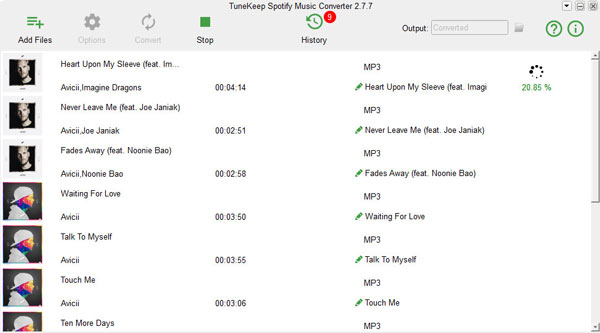 After ripping, you can find all your wanted Spotify songs in the output folder. To locate them, please open the History panel by clicking the "History" button at the top.
Conclusion
There is no doubt that TuneKeep Spotify Music Converter is the best Spotify music ripper in the market currently. It is specially designed and using the latest technology to help every Spotify user to get high-quality Spotify music in MP3, WAV, M4A or FLAC. TuneKeep Spotify Music Converter really takes care of almost all the needs of users, just to provide users with better music enjoyment and Spotify experiences, and provide more possibilities for music lovers. If you think it is useful to you or your friends, please download and have a try right now.