USB stick, or USB flash drive, is often used for exchanging and migrating data during daily use of a personal computer. If you're a Spotify Premium user, have you ever wondered if you could copy downloaded Spotify songs to a USB stick for playing on your car audio or other USB stick-enabled device? In fact, songs downloaded from Spotify are encrypted Ogg files and aren't available even if you connect them to a device that can recognize unencrypted Ogg. To save Spotify music to USB flash drive, you need to use TuneKeep Spotify Music Converter to convert Spotify music to MP3/M4A first.
Meaningless to Save Downloaded Spotify Songs to a USB Flash Drive
Generally speaking, if you want to save files such as images, movies and music to in a USB flash drive, you need to download the files in advance. If you have a Spotify Free account, you can't download Spotify songs, so there won't be any files you can copy and save in a USB flash drive. If you have joined Spotify Premium, can you successfully save Spotify songs to a USB flash drive? Unfortunately, the answer was "No".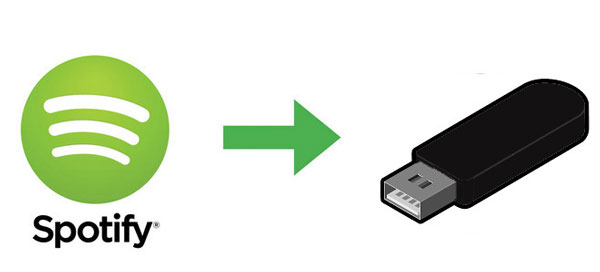 The songs downloaded from Spotify Music are DRM-protected Ogg files, so even if you transfer them directly to a USB drive, they cannot be recognized or used, which is just a waste. Spotify is a streaming music service, and the songs you downloaded from Spotify are just like the books you borrowed from a library which are not owned by you. When your Spotify Premium account expires, you will have to return the songs to Spotify. That is to say, streaming music service has kind of protection to prevent unauthorized use.
This can be said from a business perspective. In fact, books that you really borrowed from the library can be lent to your friends. It is okay if you return it within the deadline. Even Spotify users do not store Spotify songs on USB drive for business misuse or copying, they just want to enjoy music comfortably. Especially when driving, if there is a song, there is nothing boring at all. With Spotify Music Converter, you can convert Spotify songs to general-purpose audio format such as MP3, M4A, WAV and easily save the output songs to a USB drive.
TuneKeep Spotify Music Converter: Save Spotify Songs as MP3/M4A
With TuneKeep Spotify Music Converter, regardless of that you are a free or paid member of Spotify, you can download songs, playlists or albums from Spotify and convert them to all-purpose audio files in MP3, M4A or WAV format, which you can easily copy and save in a USB drive. After that, you can play Spotify songs offline on your car stereo.
TuneKeep Spotify Music Converter Features List
Available on any plan including Spotify Free and Spotify Premium
Convert Spotify music to MP3, M4A, WAV, FLAC, etc. for any USB flash drive
Add spotify songs to converter by drag and drop or link copy and paste
Automatically skip Spotify ad audio when using Spotify Free
Keep ID3 tags like title, album, artist and artwork in output files
Rename the output files in bulk by song title, album, artist, track number, space, etc.
Organize output files into folders by album, artist, artist/album or album/artist
Always compatible with the latest versions of Spotify, Windows and Mac
Convert Spotify Songs, Albums and Playlists to MP3 / M4A and Copy to USB Flash Drive
TuneKeep Spotify Music Converter has an easy-to-use interface that even beginners can convert Spotify music to all-purpose MP3, M4A, WAV and other formats, copy and save the songs to USB flash drive with just a few clicks. The conversion process is very simple.
Step 1:

Launch Spotify music converter

Launch TuneKeep Spotify music converter, Spotify will be launched automatically. Please do not operate Spotify during the conversion. And do not close Spotify until the conversion is complete.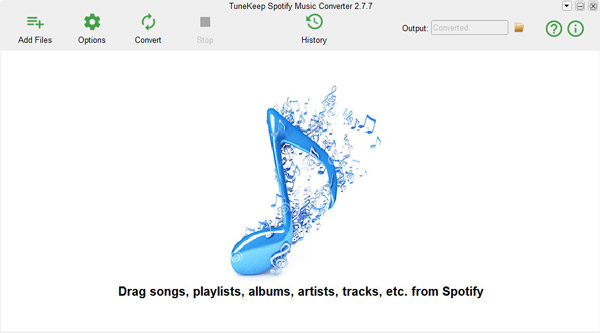 Step 2:

Add Spotify Music

There are two ways to add your desired Spotify Music to TuneKeep Spotify Music Converter: drag-and-drop, and link copy/paste. Please refer to the explanation of the two methods below and choose the one you like.

Drag and drop: Display Spotify and TuneKeep Spotify Music Converter on the screen at the same time and drag the songs, playlists or albums you want to put on your USB stick from Spotify to the software interface, then drop to add them.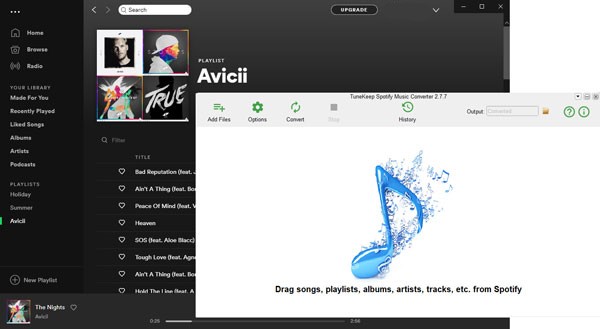 Link copy & paste: Right-click on a song, a playlist or an album on Spotify and move to "Share" >"Copy Song Link", "Copy Playlist link" Or "Copy album link" to get the link. Later, Click "Add Files" on the interface of TuneKeep Spotify Music Converter, paste the copied link into the input box at the bottom left and click the Add button to add the songs.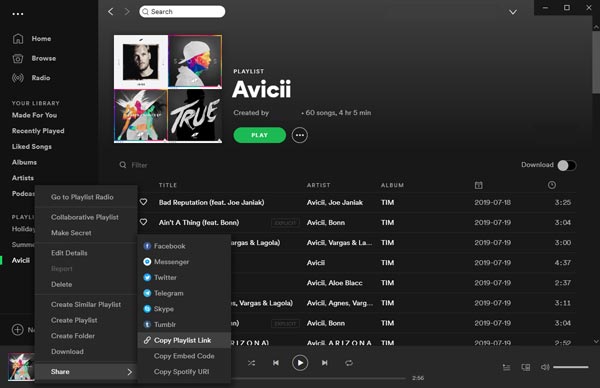 No matter how you add a playlist or an album, all the songs in it will be detected, checked and displayed as a list. If there are some songs you don't want to put in the USB flash drive, just uncheck them. Then click Add button to add them to the conversion list.
Step 3:

Output Settings

Output formats which are provided by TuneKeep Spotify Music Converter are MP3, M4A, WAV, FLAC, etc. You can save any format to a USB flash drive, but it's a good idea to check in advance which formats your car audio or other device can support. If you cannot confirm it, we recommend MP3, which has the highest versatility. The default output format is 320kbps MP3 and you don't need to change it. If necessary, you can click "Options" to change the output format, set output folder destination, how to rename output files and how to organize them into folders.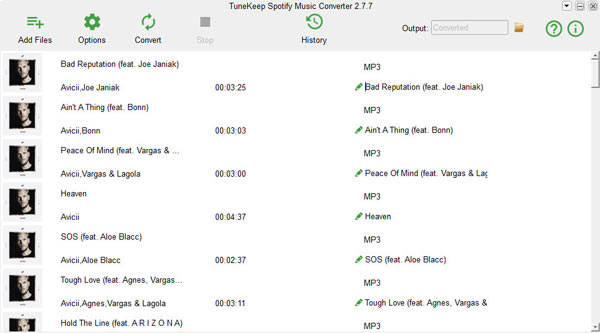 Step 4:

Start Spotify Music Conversion

Now simply click the Convert button to start Spotify music conversion. Click the history button to list the converted songs. Click the small folder icon to open the output destination and find the output files.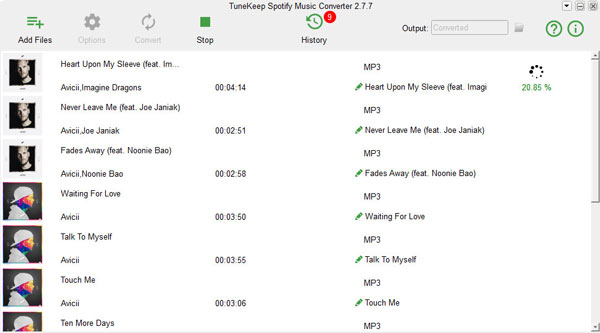 Step 5:

Save Spotify music in USB Flash Drive

If you plug the USB flash drive into the USB port of your computer and connect it, the USB flash drive will be displayed as a removable disk. Select output songs from the output destination of Spotify Music Converter, drag and drop them to the Music folder on the USB flash drive, or copy and paste them into the Music folder.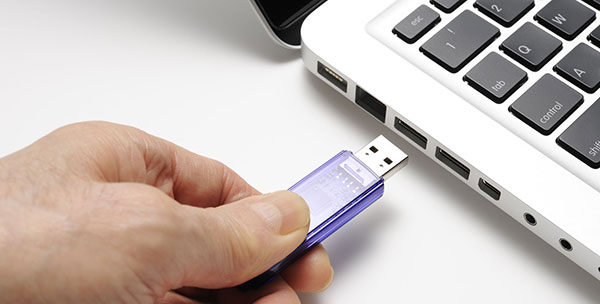 However, please note the following points when using a USB flash drive on different computers.
Some Macbooks or Windows laptops do not have a USB port. In this case, you need to prepare the correct adapter in advance.
on Mac, users can't copy files to USB flash drive formatted in NTFS because there is no permission to write files to NTFS file system. If you are using both Windows and Mac, we recommend formatting the USB flash drive to the exFAT file system. Now you can copy and save data to USB flash drive on Windows and Mac.
On Windows, right-click on the inserted USB flash drive and click "Format", you can click to select exFAT or NTFS from the list of file systems. Select exFAT, enter the volume label and click Start button to start formatting.
On Mac, you need to go to Finder > Applications > Utilities > Disk Utility, select your USB drive from the list on the left, select Erase at the top, type the name and choose exFAT format and click Erase button to start formatting.
Now you can enjoy Spotify music on USB drive compatible car navigation/car audio or other devices. TuneKeep Spotify Music Converter is powerful yet easy-to-use program, please download the free trial version to have a try now.