Spotify used to be the greatest online music streaming platform until Apple Music is developed. To many people who love music, it is important to choose a good music streaming service that suits them well. Some Spotify users may get bored after using Spotify for a long time, and Apple Music's novel design and simple operation attracted them. After using Spotify for a long time, the users must have downloaded a large number of songs, playlists or albums from Spotify. Therefore, even if these users plan to stop using Spotify and switch to Apple Music, they will first need a way to transfer the downloaded Spotify songs to the iTunes library. For whatever reason, if you want to transfer Spotify music to the iTunes library, you can get the best solution by reading this post.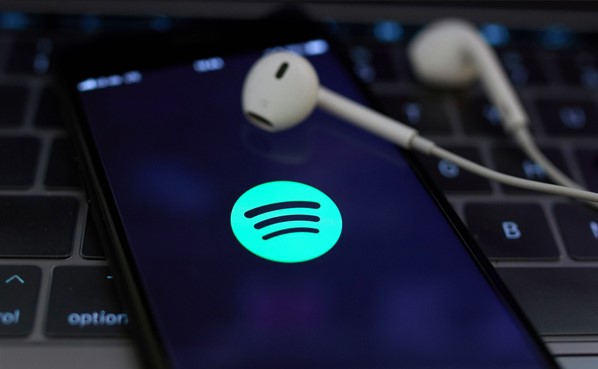 Why transfer Spotify Music to iTunes Library and Why can't I do that?
More and more users have reported that they are looking for a way to transfer their downloaded Spotify music to iTunes library, they were banned when transferring and they don't know why. It's actually quite easy to understand why people are unable to do that, but before this, let's first talk about why people started to move their Spotify music to the iTunes library.
Even when Apple Music hasn't been launched, Spotify's app and desktop design have been criticized by many users. On the other hand, users feel bored with Spotify's monotonous design and tedious playback features. Just this year, Spotify has updated the Spotify app for both iOS and Android. Here comes the problem, Spotify's new app interface had been blamed by users every time after the update.
For example, a new update has re-organized the app's button layout, pushing the "Repeat" and "Go to queue" buttons into a submenu and put "Sharing" instead. Before the update, the "Repeat" and "Go to queue" can be easily accessed on a song's now playing page, but now, if users want to get to those buttons, they've got to dive into the three-dot menu in the upper right corner first. What you will find front and center is the "Share" option that appears both on the song's now playing screen and also in the submenu.

This is just one of the changes that Spotify had made in the updates this year. Further problems kept coming and finally, some users couldn't bear it and chose to give up Spotify and join Apple Music. At first, they were happy to listen to music on such a fresh-design streaming platform since all the new users of Apple Music can enjoy Apple Music subscription for free in the first 3 months. But soon they found that they also want to enjoy the Spotify downloaded music via Apple Music app (or desktop version), the only way they can do this is to import music to the iTunes library. However, just like we mentioned above, the users had reported that they can't transfer Spotify downloaded music to their iTunes library.
The reason for this is that Spotify has encrypted all their songs including the downloaded ones. You can easily see the format of the Spotify downloaded songs, it's encrypted OGG format, which is not supported by Apple Music and iTunes. In other words, if the audio files you want to import to iTunes library are not in plain formats like MP3, M4A, WAV, etc., you will end with failure. To solve this problem, there is only one way to solve this problem, and it is also the best solution at present, let me introduce it to you now.
Best Solution to Transfer Spotify Music to iTunes Library – TuneKeep Spotify Music Converter
We have mentioned that the audio files you want to import to iTunes library should be in plain formats like MP3, M4A, WAV, etc. Well, with a professional Spotify music converter, you can do this easily. Professionality is the key to this problem, and that's why we recommend TuneKeep Spotify Music Converter to you. Read this list below and you will know what can TuneKeep Spotify Music Converter can do for you and the advantages of it.
What's good with TuneKeep Spotify Music Converter
Download and convert Spotify Music to MP3, M4A, FLAC, WAV format with Free and Premium account
ID3 tags like title, artist, album, track number, etc will be perfectly retained in the output files
Original audio quality of each song will be 100% kept after the conversion
Convert any Spotify songs, playlists and albums with up to 5X faster conversion speed
Sort output files by "artist", "album" or "artist/ album" in only 3 clicks
Compatible with the latest Windows OS, macOS and Spotify desktop
How to Download and Import Spotify Music to iTunes Library
Guess you must be curious about how to use TuneKeep Spotify Music Converter, Although it has many nice advantages and functions, its operations are actually simple. Let's find it out.
Step 1:

Launch TuneKeep Spotify Music Converter

Launch TuneKeep Spotify Music Converter like you launch other programs on your computer. Unlike the other programs, Spotify itself will also be launched with the converter. Since the conversion procession requires Spotify, please keep it running until the conversion is completed.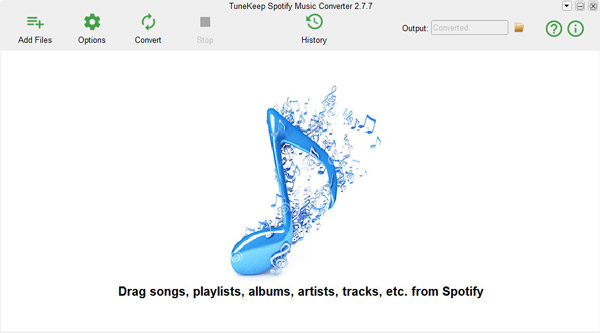 Step 2:

Add and choose Spotify songs

You will need to add your Spotify songs to the converter. There are two ways you can choose, "drag & drop" and "copy & paste". With the first way, you can just drag any Spotify music or playlists from Spotify and drop it to the converter, the music will be shown in the interface when you drop it.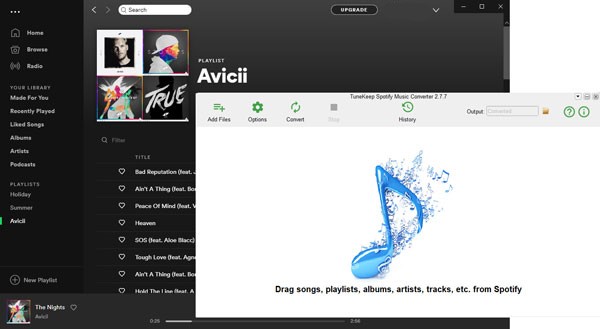 The second way called copy & paste requires you to copy the link of the Spotify songs, playlists or albums and then paste in the link bar. You can click on the "Add Files" button to show the link bar.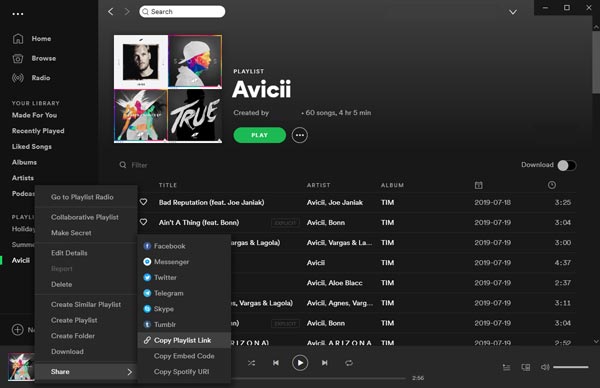 After adding songs in any of the above ways, please click the "Add" button in the lower right corner to continue.
Step 3:

Change options

You can open Options window to select the output format for your Spotify music by clicking the "Options" button. MP3, M4A, and WAV are all supported by iTunes. In the Options window, you can also set conversion speed, adjust volume and sort output files in 3 ways. More features about the Options window are yet to be discovered by you.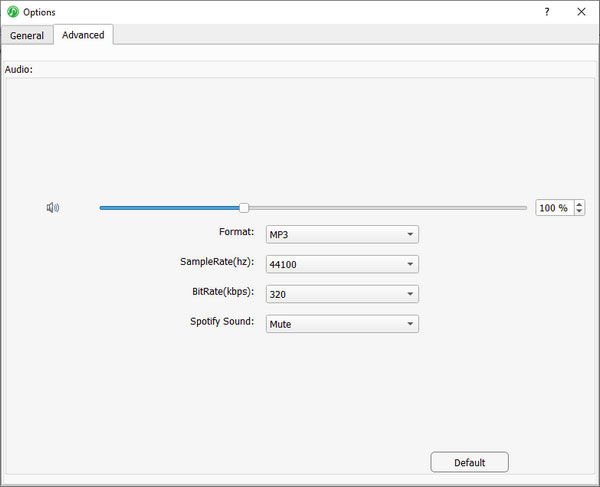 Step 4:

Start conversion

After setting up the conversion, you can now press the "Convert" button to start converting Spotify music to plain files. Get yourself a cup of water or listen to a wonderful song, after a few minutes of waiting, you will get the output files you want.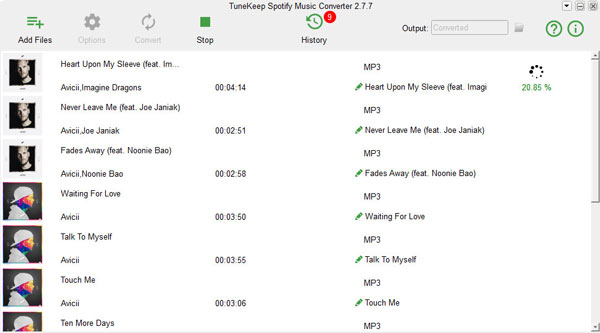 Step 5:

Import Spotify music to iTunes library

Please make sure you have signed in iTunes with your Apple ID first. Go to "File" > "Add to Library" and click on the selection. You can browse and choose the converted Spotify music stored in your computer in the pop-up importing window.

When the import is finished, you will see your Spotify music is listed in the playlists section.
Conclusion
You can feel free to switch from Spotify to Apple Music after using TuneKeep Spotify Music Converter. No matter why you want to give up Spotify and choose Apple Music, the problem can be solved now. We are happy to help those who are looking for a music streaming platform that suits them, which is one of the reasons we developed TuneKeep Spotify Music Converter. Hope this post can solve your problem now. If you also want to enjoy a better music experience or transfer Spotify music to iTunes as soon as possible, then please do not hesitate to click the button below to download or purchase, all your questions will be answered after that.